Cop injured in road crash dies at DMCH
A traffic sergeant who was hit by a covered van in Barishal yesterday has succumbed to his injuries at Dhaka Medical College Hospital.
Deceased Golam Kibria, 32, hailing from Patuakhali, was a traffic sergeant of Barishal Metropolitan Police (BMP).
He was injured when a covered van of Jamuna Group hit him on Barishal-Patuakhali highway yesterday, our Barishal correspondent reports quoting Habibur Rahman Khan, deputy commissioner (headquarter) of Barisal Metropolitan Police.
He signaled the van to stop around 12:15pm on the highway, but it tried to flee the scene ignoring the signal, DC Habibur said.
He started to chase the van, but it hit him, leaving him injured critically, the DC added.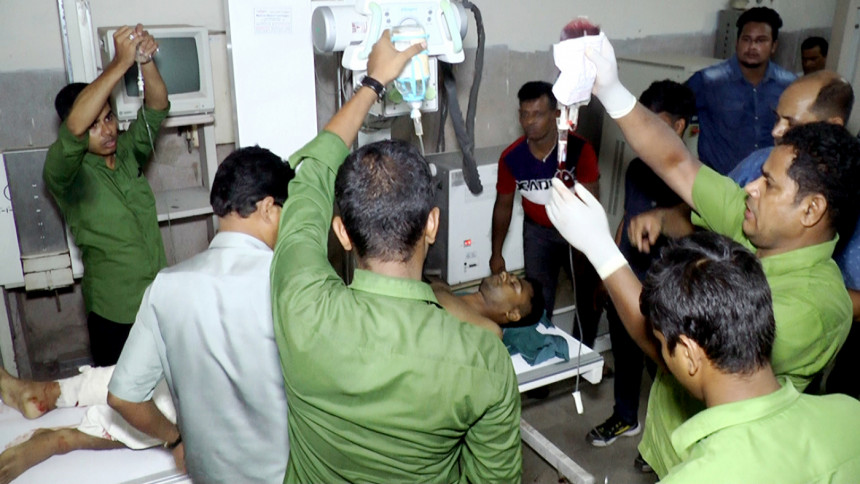 The injured official was taken to Barisal Sher-e Bangla Medical College Hospital (SBMCH) immediately, said Nurul Islam, officer-in-charge of Kotwali Police Station.
The victim was sent to Dhaka Medical College Hospital, said Baqir Hossain around 5:30pm yesterday, director of the Barishal hospital.
Police later seized the van and its driver, Abdul Jalil Shikdar, from Nachity area of Barishal, said Abudul Malek, a duty officer of Barisal Bandar Police Station.
A murder case was filed against the driver, he said.