Chawkbazar tragedy: Death toll reaches 70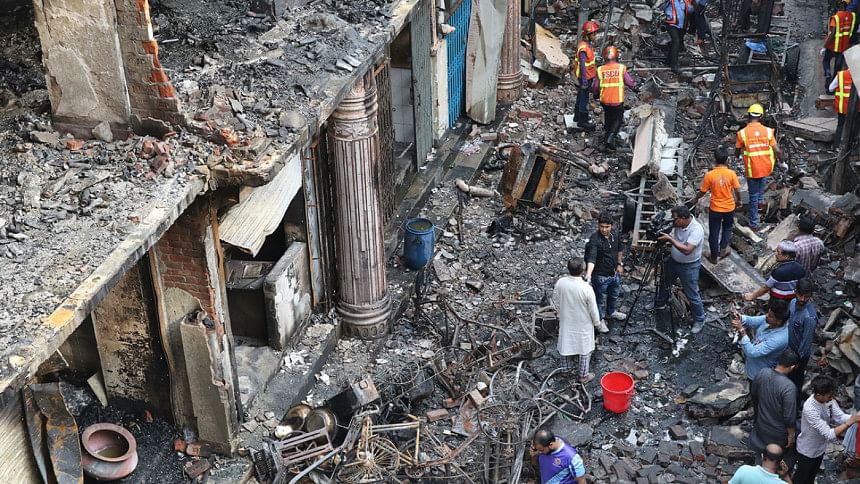 Another victim of the Chawkbazar fire lost the battle for life at Dhaka Medical College Hospital this morning, raising the death toll in the tragedy to 70.
Rejaul, 21, succumbed to his injuries at the Intensive Care Unit of the hospital's burn unit around 5:00am, Dr Partha Sankar Paul, resident surgeon of the unit, told The Daily Star.
He had suffered 51 percent burns to his bodies, he added.
Rejaul along with two other workers was working on the first floor of Haji Wahed Mansion in Chawkbazar's Churihatta area on the night of February 20 when the devastating fire broke out, according to locals.
They were burnt while fleeing the blaze.
Earlier on the night of February 25, two other Chawkbazar fire victims -- Anwar Hossain, 45, and Shohag, 22, -- succumbed to their injuries at the DMCH.
Six more victims have been undergoing treatment at the burn unit.
WHAT HAPPENED AT CHAWKBAZAR?
A devastating fire broke out at Old Dhaka's Chawkbazar area around 10:40pm on February 20, leaving 67 people dead at the spot.
Autopsies found all the victims were burned alive.
The victims are mostly pedestrians, people travelling on rickshaws and cars, residents of the buildings as well as owners and staffers of the shops and warehouses at the buildings.
The Chawkbazar fire, which sparked from a chemical warehouse, is the second deadliest chemical-fuelled fire in the country after the 2010 Nimtoli incident.