Chawk Bazar's 'Jahaj Bari' faces demolition threat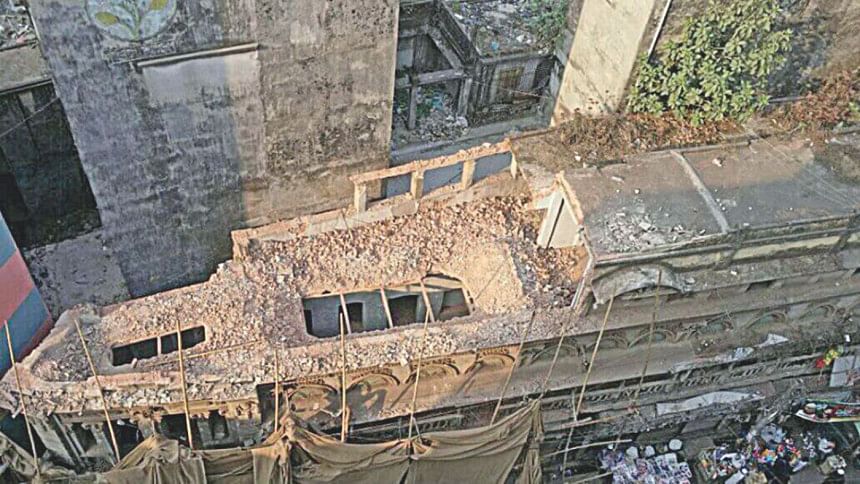 "Jahaj Bari", the ship-shaped building on Chawk Circular Road famous for its aesthetic value, is under threat of demolition.
Parts of the building were already knocked down when members of Urban Study Group (USG), an organisation working to protect Dhaka's architectural heritage, filed a general diary with Chawk Bazar Police Station last Friday citing an HC order, following which the law enforcers stopped the demolition work, and the jute mat covering on the outer walls (used during demolition of buildings) was also removed.
However, some banners were put up in front of the building, terming it "risky".
The High Court on August 13 last year issued a directive on Rajdhani Unnayan Kartripakkha (Rajuk) to not approve or allow construction on, demolition or modification of 2,200 archaeologically significant buildings, listed by USG, until Rajuk prepares an amended list of its own scrutinising the USG list.
Moreover, the land is property of a Waqf Estate (a charitable donation that cannot be sold), according to a Waqf administration official.
Md Abdul Quddus, assistant administrator of Bangladesh Waqf Administration, said it is mandatory to take permission from them for handing over or selling a Waqf land, or doing any development work.
Haji Abdul Haque is the current "mutawally" (caretaker) of the charitable trust, but an influential person took the land from another successor, said a shop owner who purchased a possession at the building decades ago.
Abdul Haque did not respond to repeated calls made by this correspondent.
Locals and the owner of a shop at the building said the shop owners, who were forced to leave the building around two months back, were not properly compensated.
Taimur Islam, chief executive of USG, said this two-storey building was built in the late 19th century or early 20th century, following neoclassical architectural style.
This building is called "Jahaj Bari" for its triangular shape resembling a boat, he said. The nearly 100-ft long building was built as a trading centre. It has a long veranda covering the whole length of the building. Pointed arches with decorative floral motifs on top covers the whole façade of the building. With decorative cornice and extensive surface decoration, especially the two bay panels at the western end embellished with extensive decoration in neo-classical tradition, drop festoon motifs, along with cartouches makes it a very unique building.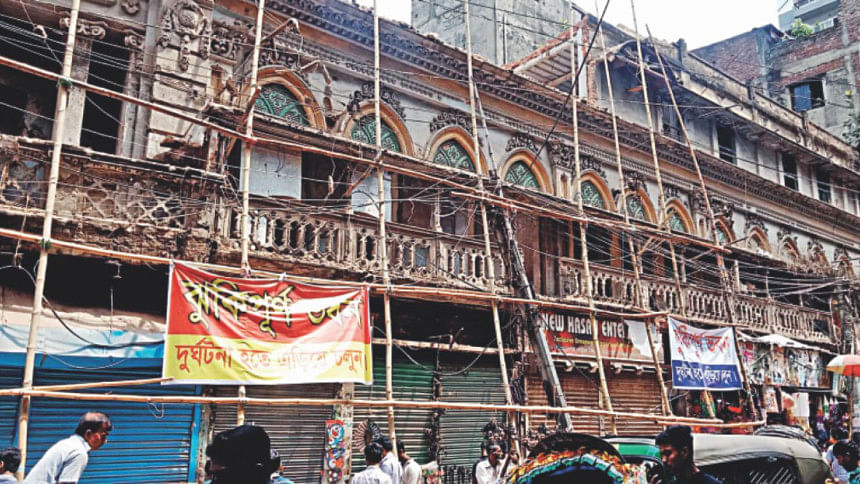 Just for its aesthetic value this building should be preserved, Taimur added.
This demolition is certainly a violation of the High Court order, he said.
Department of Archaeology, Rajuk and the Waqf department should be held responsible for the demolition done so far, and this action should be seen as a contempt of court, he added.
Contacted, Rajuk Chairman Abdur Rahman said they were not aware about the demolition, but said they would take steps against it.
Rakhi Roy, regional director (Dhaka) of department of archaeology, said they had no idea about the demolition, but they would send their personnel to check and would take necessary steps if they find the building on their heritage list or under consideration to be enlisted.