Case filed against Muktijudhho Moncho leaders Bulbul, Mamun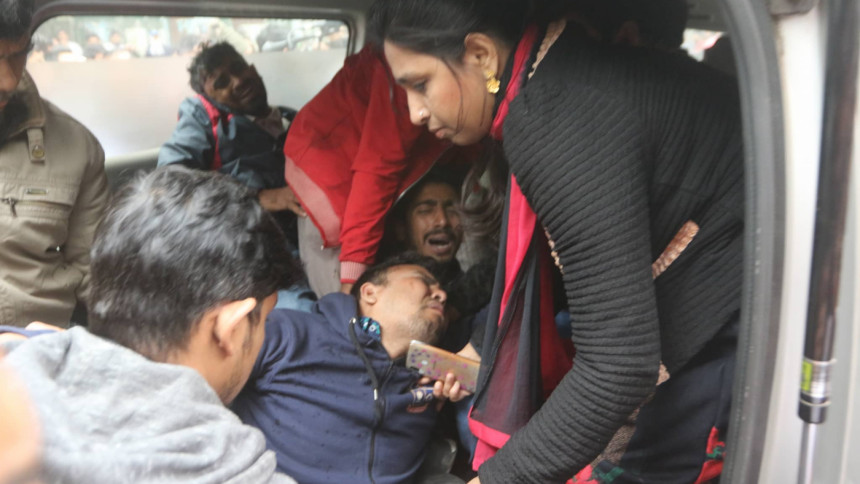 Around 30 to 35 people including Muktijuddho Moncho leaders Aminul Islam Bulbul and Al Mamun were sued early today in connection to the attack on Ducsu VP Nurul Haque Nur and his supporters on Sunday.
Of the accused, Bulbul is the president of the platform's Dhaka University unit, and Mamun is general secretary of its central unit.
Apart from Bulbul and Mamun, six other Muktijuddho Moncho leaders and activists -- Yeasir Arafat Turjo, ASM Sonet, Imran Sarker, Yead Al Riyad, Mahbub Hasan Niloy and Touhidul Islam Mahim -- were made accused by name while the others were unidentified.
Rais Uddin, a sub-inspector of Shahbagh Police Station, filed the case around 12:45am today.
Detectives yesterday detained Mamun and Turjo, general secretary of its Dhaka University unit, from the capital's Shahbagh area.
Mamun is a former deputy liberation affairs secretary of the central unit of Bangladesh Chhatra League, the pro-AL student body. Turjo is the organising secretary of DU BCL.
On Sunday, activists of a faction of Muktijuddho Moncho, mostly comprised of Chhatra League men, beat up and injured Nur, storming into his office at the Dhaka University Central Students' Union (Ducsu) building.
At least 27 of Nur's supporters were injured in the attack.
Of the injured, Tuhin Farabi was kept at the intensive care unit of Dhaka Medical College Hospital and his condition improved yesterday and he was taken off life support, the hospital's director, Brig Gen AKM Nasir Uddin, told The Daily Star.
The Moncho, claimed to be comprised of freedom fighters' children, was founded in October last year to counter the anti-quota demonstrations led by Nur and other quota reformist leaders.