Big excitement for small entrepreneurs
Unnayan Mela comes to a close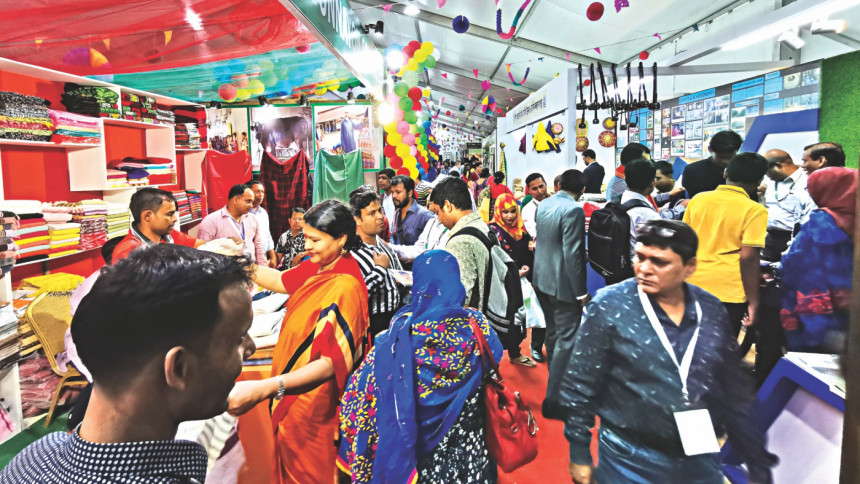 Amid big excitement by small entrepreneurs, curtains dropped on the weeklong Unnayan Mela-2019 at Bangabandhu International Conference Center (BICC) yesterday.
The annual development fair, organsied by state-owned Palli Karma-Sahayak Foundation (PKSF) is a paramount event for a large number of micro- and small entrepreneurs in rural areas, as they get a chance to connect with a wide section of prospective buyers.
"Small entrepreneurs get bulk orders from different business houses of the country at the fair," said Dr Qazi Khaliquzzaman, chairman of PKSF.
He said such a fair could inspire marginalised people to be self-reliant, as PKSF has a wide range of progarmmes including economic and non-economic support to change their standard of living.
"Without long-term initiatives like training, education, healthcare and forming social capital, only economic assistance could do nothing," he affirmed.   
His insight reflected in the beaming faces of small entrepreneurs on the last day of the fair yesterday.
"We make baskets, bags and shoes by weaving jute ropes, and then sell the products on demand both at home and abroad," said Shamsunnahar, a stall attendant of the organisation "Taranga".
She told The Daily Star that her organisation had trained up over a thousand women in different parts of the country, and they are now financially independent through working with them.
Besides Taranga, a total of 130 organisations, including associate bodies of PKSF from rural areas, different public and private organisations, research and information technology institutions and service-oriented organisations set up 190 stalls at the venue.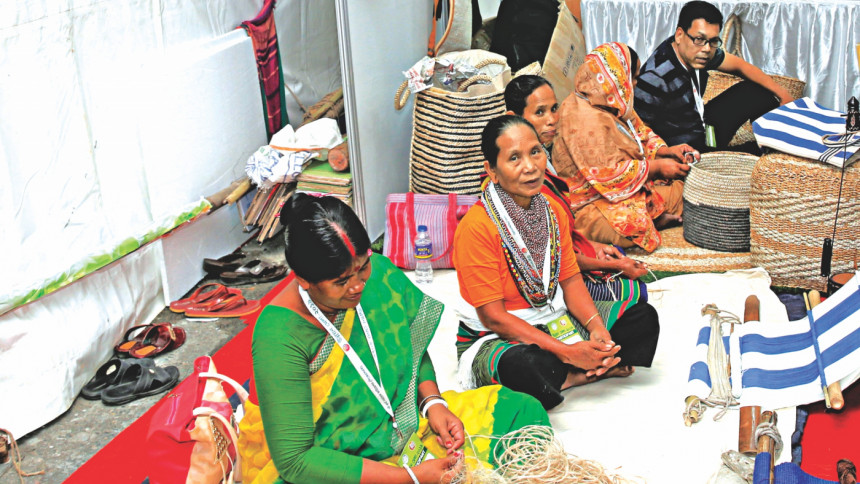 At least 100 varieties of paddy being displayed at the stall of Bangladesh Rice Research Institute was found to be a crowd-puller.
"Besides rice, these paddy can be used to make cakes, biscuits, noodles and diversified foods," said Priyalal, an officer of plant breeding division of the institute.
Rahnuma Teethi, a second year student of City College, said he bought imitation jewellery from the stall of Niloy Foundation.
"It's not gold but beautiful to look at; such imitation is better for casual use," said a smiling Teethi.
Stall owners said these products had been made by a group of women from Maheshpur upazila under Jhenaidah.
Fair organisers said their Promoting Agricultural Commercialization and Enterprises (PACE) project has given financial and other logistic support to various organisations and individuals.
"When I was living a miserable life with my farmer husband, PACE project helped me. I have earned Tk 85,000-90,000 so far this year by cultivating dragonfruit," said Nurjahan, a resident of Tangail Sadar upazila.
Though the fair ended yesterday, activities of PKSF continues year-round, said Managing Director Moinuddin Abdullah.