Becoming the CEO of your own life
Freelancing getting increasingly popular as a career choice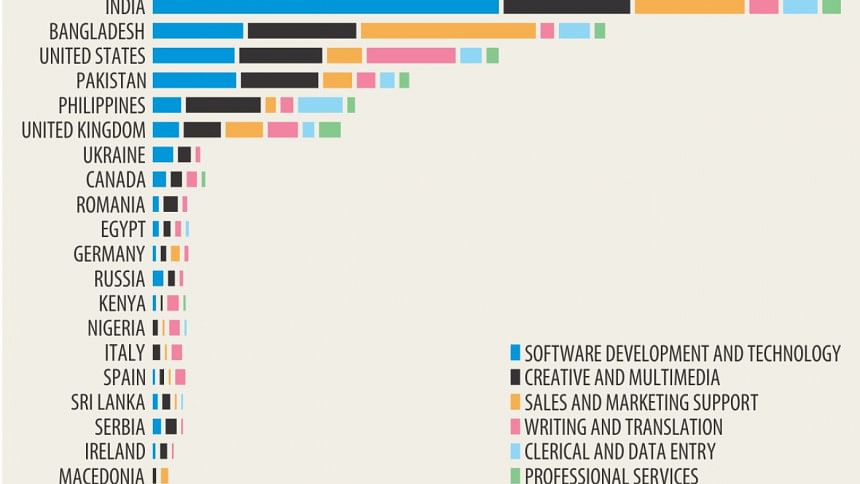 Three jobs switches and 15 years later, Shohel Ahmed rose to what he thought was the peak of his career as the head of human resources at a local conglomerate.
But Shohel, at the age of 41, felt overburdened and burned out from monotony. He quit this high-paying job in 2015. Now in 2018, he is living a happy life and earning a lot more as a freelancer.
Getting to this point was anything but easy.
He first heard about freelancing from his friends back in 2011, but did not take it seriously. After quitting his job in 2015, he decided to give it a try on Upwork -- a leading freelance job market. He set up his profile there, took the required tests and started applying for work in the content writing categories. He got his first work -- writing a product description for a dehumidifier maker -- that got him a mere $10 (around Tk 840).
Gradually, he kept on developing his skills in Search Engine Optimisation (the techniques of making websites search-engine friendly), business strategy development and other related areas. He is now working on diverse projects for clients around the globe and earning up to $20 per working hour.
Shohel is not alone. There are many like him who left their respectable positions at reputed organisations in order to truly become financially independent.
EARNINGS AND WORK-LIFE BALANCE
In an online study conducted by The Daily Star in September on 23 successful freelancers, it was revealed that they are earning more and have better job satisfaction.
Marilin Ahmed, a freelance HR professional, who used to be a manager of organisational development in one of the largest global pharmaceutical companies, said she was unhappy as her work did not leave time for much else. She wanted to live life on her own terms. Now, she is doing exactly that and earning five times more than that of her previous job.
Most of the 23 full-time freelancers had conventional jobs and almost all of them reported higher job satisfaction and were making double to 20 times more than what they used to.
"My current profession allows me to spend a lot of time with my child," said Kazi Drohee Rahman, a freelancer in administrative support.
Among the 23, 16 said their families supported their decision; seven replied in the negative.
Shohel said his family is happier as his wife and children would hardly see him when he had a regular job.
"In my early days of freelancing, my family was not on board. But now when they see that I'm happier and more successful, they have accepted it," Marilin said.
SOCIAL DISCOMFORT
As far as the feeling of social unease or discomfort is concerned, most freelancers (14 of the 23) said they felt no discomfort, while nine admitted to have the feeling of unease at varying levels.
Although they are aware that some people around them fail to value their profession, they also know that others' impression of them is not in their hands. 
Shaihan Murshed, a software developer, said, "I don't care what others think of me. I do what I do best and that's what matters."
Shohel suggested that such feeling of social discomfort or anxiety should not be an issue as freelancing is just another profession.
Different estimates put the number of freelancers in the country to be around 650,000. Export earnings from software and information technology enabled services in Bangladesh increased to $800 million in 2017 from $400 million in 2014. The government aims to increase it to over $1 billion by this year and $5 billion by 2021.
Bangladesh is already the second largest country in supplying online labour, according to the Oxford Internet Institute (OII).