5 of a family held in Dhaka for 'militant link'
'Sonali Bank official' among the detainees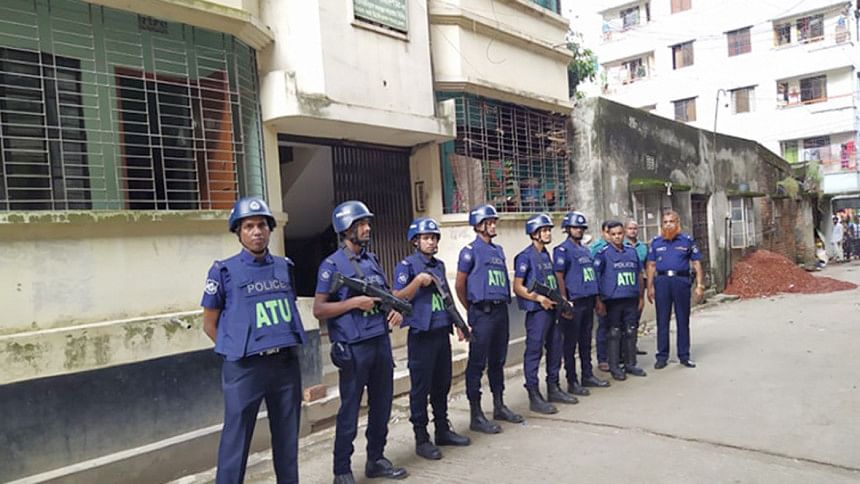 Five members of a family including a "Sonali Bank official" were detained from a building in Dhaka's Mirpur area for their alleged involvement with the banned militant outfit Ansar Al Islam.
A suspected militant and three policemen were injured during the drive, said Md Mahiduzzaman, superintendent of Police (Media) of Anti-Terrorism Unit (ATU).
Among the detainees, Ahmad Ali is an assistant general manager (AGM) at Sonali Bank, our staff reporter reports quoting the landlady of the flat Nazma Akhter.
Ahmad is a top-ranking member of the banned militant outfit, the SP said.
On information, a team of ATU team cordoned off a five-storey building in Rupnagar residential area around 1:30am today, Md Mahiduzzaman said.
Around 2:00am, law enforcers knocked at the door of the flat on the  third floor asking the suspected militants, all belonging to one family, to open the door. Getting no response for a while, the ATU team broke open the door, the police official said.
As soon as police tried to enter the flat the suspected militants attacked them with sharp weapons and cross-bows. They also set off explosives, the SP added.
In retaliation, police fired several rounds of bullets.
Locals also claimed to have heard loud noises around that time of the night, our correspondent says.
Apart from Ahmad Ali, two more detainees have been identified. They are Abu Saleh Mohammad Zakaria and Kibria.
Of them, Zakaria was admitted to Dhaka Medical College Hospital (DMCH) as he suffered injuries during the drive, police said.
Ahmad Ali along with his wife, two sons and a daughter have been living in the rented apartment for the last 11 years, landlady Nazma claimed adding that she never noticed any suspicious activities from their part.