3 die in Eskaton building fire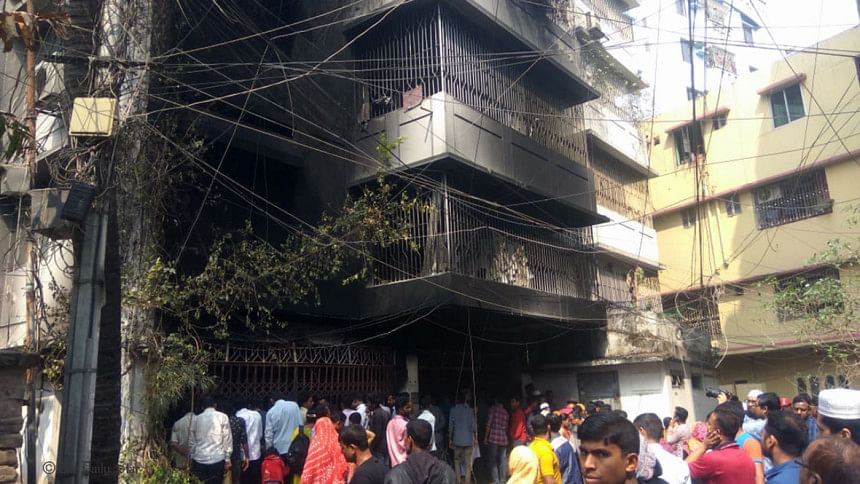 Three people, including a child, died after a fire broke out in a building in Dhaka's Eskaton area early today.
The deceased were identified as Abdul Kader, 45, Afrin Jannat, 17, and AKM Rushdi, 5, our correspondent reports quoting the victims' relatives at Dhaka Medical College Hospital (DMCH). The bodies were kept at the DMC morgue for autopsy.
The fire originated in the five-storey building on Dilu Road around 4:30am. Eight units of firefighters reached the spot around 4:40am and brought the blaze under control around 5:00am, Debasish Burman, deputy director of Dhaka Fire Service and Civil Defence, told The Daily Star.
Of the deceased, two were burnt to death while one suffocated in the smoke, the official said. Two of bodies were found on the staircase of the second floor while another was found in the garage, he also said.
Six others were also injured in the fire, the official added.
A five-member committee headed by Abul Hosen, deputy director of Mymensingh Fire Service and Civil Defence, was formed to probe the incident, Debasish Burman said. The committee was asked to submit the report within 15 days.
According to Lutfur Rahman, the gatekeeper of the building, the fire had originated from an electric metre box in the garage.
"I saw a spark in the box which quickly turned into a fire and caught on to a wooden bed nearby," the gateman said while talking to The Daily Star.
The guard then quickly got out of the building and tried to alert its residents and neighbours, he also said.