13-year-old girl killed in wall collapse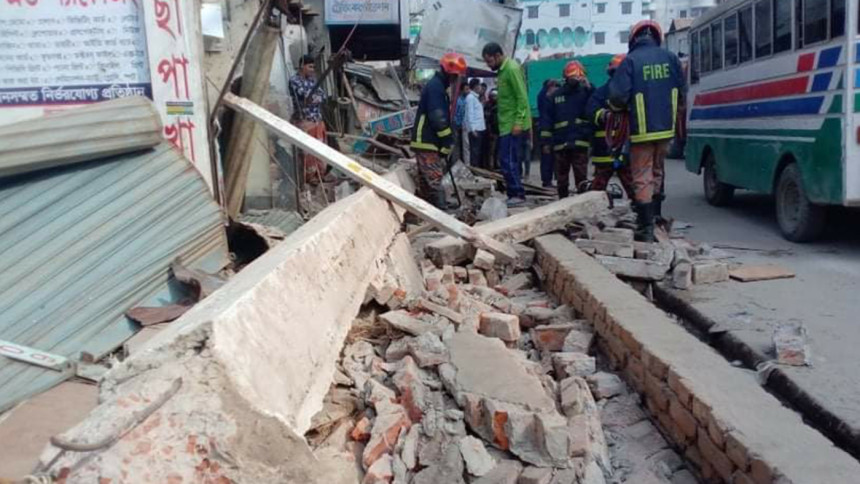 A thirteen-year-old girl was killed and three people, including the girl's mother, were injured after wall of a one-storey building collapsed on them in Ashulia yesterday.
The deceased was identified as Happy Akter Mina, a fifth grader at  a school in Ashulia, said fire service officials.
Abdul Alim, deputy assistant director of fire service (zone-4), said some workers were demolishing a one-storey building owned by one Ali Hossen at Zirani in the morning.
Around 11am, a portion of the wall collapsed on four pedestrians leaving Mina, daughter of Habibur Rahman of Kushtia, dead on the spot and three others injured.
On information, a team of fire-fighting unit rushed to the spot and recovered Mina's body and handed it over to police, he said. The body was sent to Shaheed Suhrawardy Medical College Hospital for autopsy.
The injured -- Rekha Begum, Shariful Alam and Shazzad Hossain --were taken to a local hospital, the official added.
The incident occurred as the building's owner did not take any preventive measure while demolishing the old building, the deputy assistant director further added.
This correspondent could not get in touch with the owner who went into hiding after the incident.
Al-Amin, sub-inspector of Ashulia Police Station, said filing of a case in this regard was underway.