'Crystal meth' lab busted for 1st time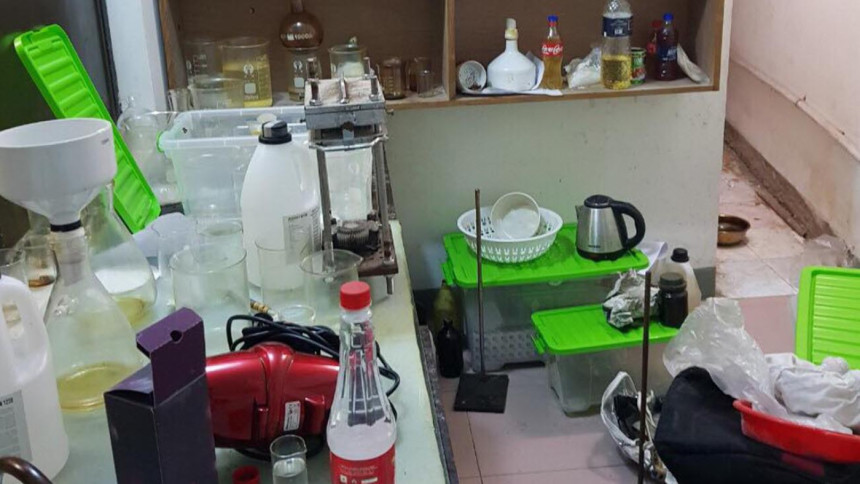 The Department of Narcotics Control claimed to have busted a narcotics manufacturing laboratory and seized a consignment of two types of new drugs, including crystal methamphetamine, from the capital's Jhigatola area yesterday.
A team of DNC raided the basement of 62, Jigatola around 2:00am and discovered the laboratory, Khorshid Alam, assistant director of DNC, told The Daily Star.
This was the first time in Bangladesh the DNC team detected these types of narcotics -- crystal meth and MDMA, he said.
The DNC team arrested Rakib Uddin, 45, in Mohammadpur area and two of his associates -- Md Jakaria, 30, and Helal Hossain alias Saddam, 32, -- in Eskaton area on Tuesday evening with 160 pieces of yaba tablets and five grams of crystal meth.
Squeezing information from the arrestees, the DNC team conducted a drive in Jhigatola and discovered the laboratory. During the daylong drive, the DNC team recovered new drugs-making machinery, hard disks and chemicals from the factory, said Khorshid.
During an investigation, the DNC team learned that the owner of the six-storey building, Hasib Moammar Rashid, 32, lives in Dhanmondi with his family and went into hiding soon after the drive.
The DNC later detained the building's caretaker Jahangir Alam, 39, for interrogation.
"During primary investigation, we learned that Hasib got involved in narcotics trade when he went to Malaysia for studies. After returning home, he set up the factory," said Khorshid, adding, Hasib was trying to market the drug as it is new in Bangladesh.
The AD further said they had seized eight foreign and local debit and credit cards and sent a notification to law enforcers so that he cannot leave the country.
"We are also trying to arrest other associates of Hasib," he added.
A case would be filed against Hasib and the caretaker and his other associates would be included after verifying their involvement, Khorshid said.
He could not say the actual price of the crystal meth immediately since it is new in the country. Crystal meth looks like small crystal cubes and MDMA is a tablet.
According to the United Nations Office on Drugs and Crime (UNODC), the average street price of per gram of methamphetamine in China is $80, whereas in Australia it is $500, reports BBC.