NCTB changed textbooks based on communal group's demand: TIB
Based on the demands of a specific communal group, National Curriculum and Textbook Board (NCTB) arbitrarily changed some of the textbook contents in primary and secondary levels this year, Transparency International Bangladesh (TIB) alleged today.

This could not be done unless power is misused, TIB Executive Director Dr Iftekharuzzaman said while replying to a query at a press conference at its headquarters in Dhaka.
"Sixteen write-ups from five textbooks in primary and secondary levels have been excluded. Among those, 11 poems were removed based on the demand of the specific group," TIB said in a study.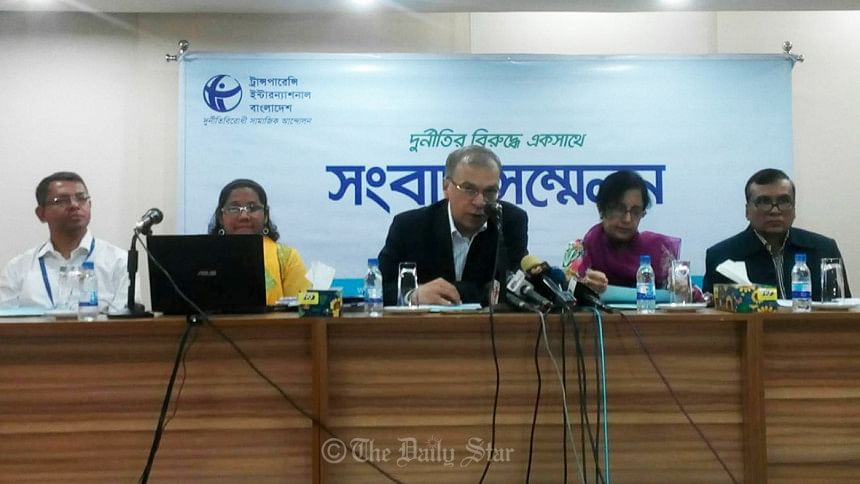 The anti-graft watchdog, in the study, said it also found irregularities and corruption in the formulation of textbooks including writing manuscript, publication and distribution.    

Terming it a challenge to good governance, TIB said the irregularities and corruption mostly took place in the ten levels of formulating textbook manuscript – formation of committee, workshop, forming of writers panel, selection of contents and use of words, recruiting content expert, coordination between writer and editor, editing, recruiting proofreader, use of try-out method and manuscript preservation. 
TIB researcher Morsheda Akhter conducted the study titled 'National Curriculum and Textbook Board (NCTB): Challenge of Good Governance and a Way out in Writing Manuscript and Publication Management' at the press conference.
The allegations include:
Formation of committee: Ruling party loyalists get preference as members in the committee and in some cases, members get excluded from it though they are competent.
Workshop: Lack of right policy, favouritism in selecting participants. In many cases, participants' opinions are not accepted.   

   

Textbook writer panel: Some of the members included in the group do not have any clear idea about the topic of the lesson.
Topic selection and use of words: Selection of topics are influenced by religion and communal ideology. Topic and words of textbooks are changed with the change in the government.
Recruiting experts: In many cases, experts are not invited for conducting the process.
Writer-editor coordination: Points are added and removed without notifying the concerned writers.
Editing: Distortion of the original poems, spelling mistakes and incoherent topic and photo.
Recruiting proofreader: Favouritism and lobby in the recruitment.
Use of try-out method:  No scope for opinion and its analysis from the grass-roots level and no changes take place based on it.
Manuscript preservation: Absence of proper planning and system for textbook manuscript preservation.