Number of JSC subjects reduced
Students to take seven this year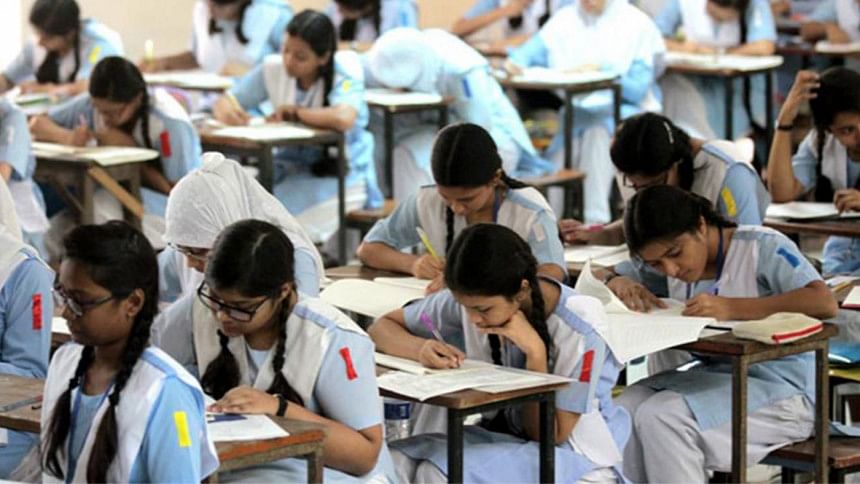 The National Curriculum Coordination Committee (NCCC) yesterday decided that class-VIII students would sit for the JSC test in seven subjects this year instead of 10 subjects that include an optional one.
The move will reduce the total marks of Junior School Certificate (JSC) and Junior Dakhil Certificate (JDC) exams by 200.
The decision was taken at a meeting of the committee at the education ministry with Sohorab Hossain, secretary of secondary and higher secondary education division, in the chair.
It is aimed at reducing pressure on the students.
Now, the students of class-VIII will sit for a 650-mark JSC test while the JDC examinees will sit for an 850-mark test.
As per the revised mark distribution in JSC and JDC level, Bangla first and second paper exams will be held on 100 marks, with 50 for each paper. Similar marks distribution will be followed in English first and second paper exams.
"The size of the syllabus and the curriculum will be abridged to some extent when the new books will be published in 2019," said Sohorab.
However, educationists will be consulted so that there is no impact on learning.
Asked whether such a change in the middle of an academic year would negatively impact students, the secretary said students will not face any problem.
The education secretary also said multiple choice questions would remain in this year's tests but           officials were also pondering over alternatives.