Made In Bangladesh spring meet-up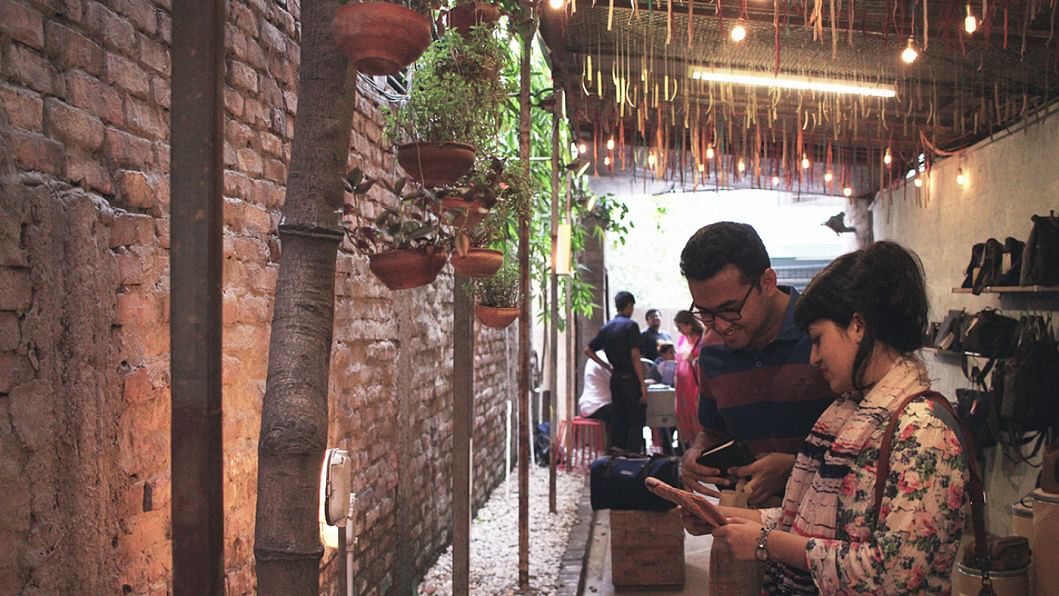 MIB's flagship event is here! 'Made in Bangladesh' celebrates the essence of each season by opening its doors to the public. The spring meet-up began on April 7 and will continue till April 14, providing us with a platform to get in touch with local brands.

This year's meet-up is the same as the previous years, with lots of interactive sessions, scores of new brands and soulful live music.

Who doesn't love those hilarious, comical drawings in newspapers, where people are drawn with big heads and tiny bodies? Well, here's your opportunity to live your dream and laugh hard until your stomach aches as you witness your comical rendition put to paper by the talented artists of 'Cartoon People'.
'Junk Art' comes to us with their unique concept, collecting up-cycle materials and putting them together to create appealing household items. Their products have a very rustic look which is an immediate attention grabber.

'Six Yard Story' is another one of the stalls available at the meet-up. Here you'll find ornaments and jewellery made of brass, bronze and metal. Their collection is simple, yet elegant, giving you the extra touch of panache as you don them on.

In addition to the aforementioned there's Sillious, Wearhouse, Meehee, Alkananda, Glued Together, BuburBayna, Disha's Road Bloc, B's Closett, Sweet Potato, Boobook, Sunbird, Newton's Archive, Closet de Tatiana, The Brownie Coterie, Proplanters, Stellar, Hems and Huesand much more.

Walking through these stalls, there will come a point when your body will run out of steam that is when Ajo will come to your rescue. Their mouth-watering menu goes well with the setting ambiance created by Made in Bangladesh. The live sessions are a must attend for everyone with spell-bounding music by extremely talented local musicians of the country.

All this and many more; you'll find in this year's Spring Meet-Up hosted by MIB. Whether today or tomorrow or the day after, don't miss out on this event and live the spirit of Made in Bangladesh!