Low-cost kidney care
Gonoshasthaya Dialysis Centre to begin operation within a week; to provide free or low-cost dialysis facilities for poor patients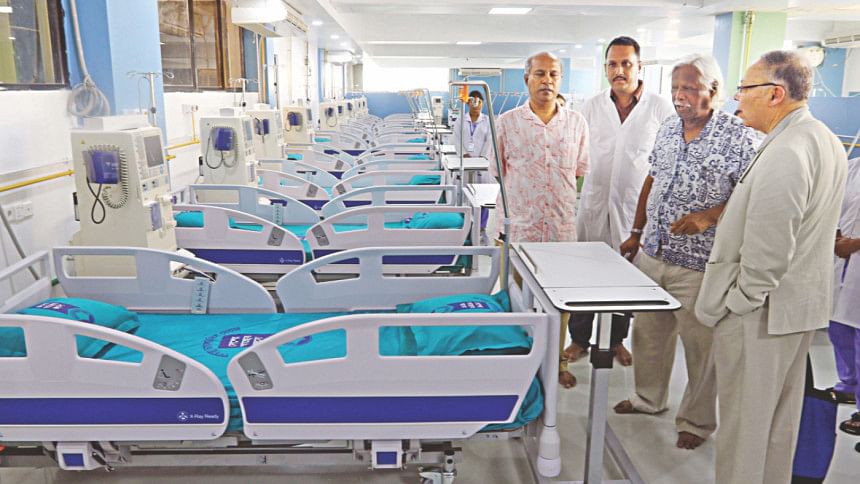 Gonoshasthaya Dialysis Centre (GDC) is going to begin its operation in a week, promising low-cost healthcare to the kidney patients struggling to access services for high cost.
The 100-bed non-profit centre housed at the Gonoshasthaya Nagar Hospital in Dhanmondi is almost ready with equipment and procedures of international standards and trained physicians, nurses and technicians.
"The centre will run round the clock and is able to provide dialysis services to 500 kidney patients a day," said Dr Zafrullah Chowdhury, founder of the Gonoshasthaya Kendra (GSK, Peoples Health Centre) and dreamer of the dialysis centre.
The centre will provide free dialysis services to the ultra poor patients, comprising five percent of the total patients, he said at a familiarisation function of the GDC in the hospital auditorium yesterday.
The charge for each session of dialysis for the poor patients -- 80 percent of the total patients in the GDC -- would be Tk 1,100, while Tk 1,500 for the middle class patients (10-20 percent) and Tk 3,000 for the rich patients, said Dr Mohib Ullah Khondoker, coordinator at the GDC.
Also, the centre has a plan to begin kidney transplantation from 2018.
He said this is the first time any dialysis centre in the country has an attached intensive care unit and a separate ward for the patients of infectious diseases.
The centre is equipped with air-cooling system, WIFI facility, audio-video devices to keep the patients comfortable, he added.
"Everybody -- rich or poor -- would get the same quality service," Dr Mohib said.
The dialysis centre comes into operation at a time when average dialysis charge in any private hospital is at least Tk 3,000 for a four-hour session. A kidney patient needs two to three such sessions every week.
Besides, kidney patients need blood tests and erythropoietin injections, which in total require monthly Tk 40,000 to Tk 1 lakh, which is quite impossible for most patients to bear.
According to official estimates, there are 1.5 crore to 2 crore chronic kidney patients in Bangladesh, and after several years they face kidney failures. They then need either dialysis or kidney transplantation.
Failing to have kidney transplantation or continue dialysis, an estimated 40,000 kidney patients die every year in the country.
"We want to ensure affordability of healthcare to the kidney patients," said Dr Zafrullah.
HOW DID IT BEGIN
Dr Zafrullah, who first went to Kidney Foundation in Mirpur for a dialysis in early December 2015, discovered patients' miseries.
"Their stories struck me. There are health services in the country but they cannot afford those. This can't happen," he said. He then began talking to businessmen and other individuals regarding the issue.
He said the Gonoshasthaya Kendra Welfare Trust provided 35,000-square-feet space for the dialysis centre for 10 years, while philanthropists came up with some Tk 25 crore.
"This is a huge response from our people. I thank them for their great support," Dr Zafrullah said, seeking support for Tk 10 crore more.
He said kidney dialysis is free in many countries. Even in India, the cost of each dialysis session is less than RS 1,000, he said.
"Our people should not be deprived of healthcare for financial inability," he added.
Prof Dr Tauqeer Karim of Tufts University School of Medicine in the US; Prof Dr Mahbubur Rahman, head of GDC Lab; Dr Mohammad Abdul Hamid, nephrologist of GDC; and Prof SA Hafiz of Gonoshasthaya Community-based Medical College also spoke.