A locked door to tragedy
Jannatul used to lock their room before going to bed every night.
It became a regular duty for the fifth grader to prevent her mother Kalpana, an epilepsy patient with other health complexities, from going out in the dead of night.
She possibly did the same on Saturday night, when a fire originated from a mosquito coil around 3:00am and destroyed their room along with two others, including a shop, at Bauniabad in Dhaka's Mirpur.
The inhabitant of the next room could run to safety, but Jannatul, her mother and younger brother Kawser (8), could not -- apparently being trapped in the room locked from inside.
"The three bodies were piled up near the door. They were sleeping but possibly rushed to the door from the bed after seeing the fire," said Forhad Hossain, who, along with others, broke down the door after extinguishing the fire.
Forhad, an occupant of the next room, could manage to come out before the fire spread to his room as well.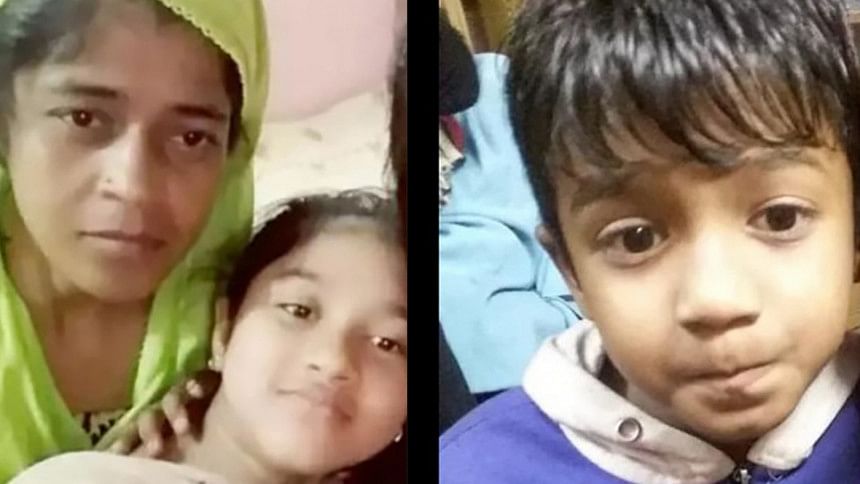 "Had the door not been locked, they might have gone to safety," he said.
Visiting the spot yesterday, it was seen that a 70-year-old Aleya Begum was wailing near the fire-ravaged rooms.
"We told my granddaughter to lock the door as my daughter Kalpana used to go out in the dead of night and upset us. They were killed due to the lock," she said in choked voice.
Some others were trying to console her.
The tragedy shocked the neighbours, as Kalpana was rearing her two children through hardship after her husband Zulfikar did not take care of the family.
Zulfikar had married another woman a couple of years ago and stayed separately.
"Despite all odds, my daughter used to love her kids. She used to sell toys on the footpath to maintain her family," Aleya said.