Eid joy turns into tragedy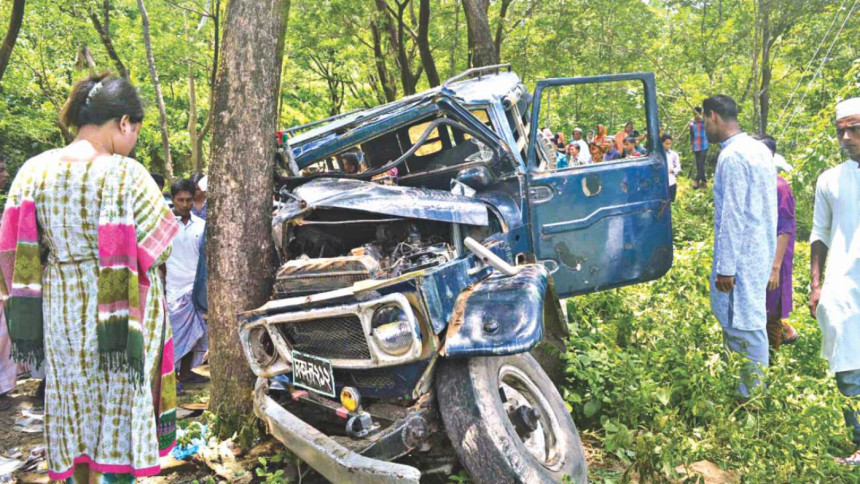 For five friends, a trip promising joy turned into a tragedy on Tuesday.
The friends had gone to Moinot Ghat of Padma River in Dhaka's Dohar upazila to enjoy their Eid holidays on that morning. Till the afternoon, it was all fun and games for them. 
But moments after three of them got into the river, a sudden strong current dragged them out into deep water.
One of the bodies was recovered yesterday while the two others remained missing. A fire service official said the victims were taking selfies at the time of the incident.
The deceased was identified as Ishtiak Ahmed Mohim, 21, a first-year student of BBA department at Dhaka's United International University.
The two other youths -- Supriyo Dhali, a 23-year-old student of Dhaka Commerce College and Salman Bin Jamal, 22, from Monipur School and College -- are missing.
Quoting witnesses, Al Masud, station officer of Fire Service and Civil Defense Headquarter said the trio was forced under water by the strong waves of the Padma when they were taking selfies around 3:00pm.
However, the two surviving friends - Apurba and Fahim of Bangladesh University of Engineering and Technology declined that the trio were taking selfies.
Mohim's family member said Mohim did not know how to swim.
Mohim's last status on Facebook lamented his lack of plans for the holidays and ended with him stating, "there is no other way but to sleep". After news of his death broke, many of his friends began commenting on the status.
One acquaintance prayed that he rested in peace whilst another said "his sleep had turned eternal" and a third solemnly stated "Your sleep will now not be broken."
Sirajul Islam, officer-in-charge (OC) of Dohar Police Station, said the search for the two others continues.
Meanwhile in Louhojang of Munshiganj, an SSC examinee -- Mohammad Hasan, 18, went missing on Tuesday afternoon in the Padma river after he went to visit Mawa Ghat with his friend Tipu.
Tipu managed to survive, but Hasan, son of Billal Sheikh of capital's East Nakhalpara in Tejgaon, and an SSC candidate from Farmgate Boys' High School, was missing till filing of this report.
In Cox's Bazar, the body of a nine-year-old boy, who went missing along with two others, after their boat capsized during a trip in the Naf River on Tuesday evening, was recovered yesterday.
The body of the victim, Mohammad Amin, was recovered by locals near the new jetty area on the Naf River around 11:00am. Amin, son of Sabbir Ahmed alias Monu Miah, lived in the Teknaf municipal area.
Two other missing boys - eight-year-old Anwar Sadeq and Saddam Hossain, 15, are also from Teknaf.
Meanwhile, Sudipto Dey, 18, went missing in the Bay of Bengal near the Seagull point of Cox's Bazar on Tuesday morning. He had gone to the beach town with his friends to celebrate Eid.
Sudipto, son of Sheetol Chandra Dey, a resident of the capital's Sutrapur area, had recently passed Secondary School Certificate (SSC) examinations from Birshreshtha Noor Mohammad School and College in Peelkhana in Dhaka, reports our Cox's Bazar correspondent.
The victim went into deeper water around 6:00am, said Raihan Kajemi, senior assistant superintendent of Cox's Bazar tourist police.
At one stage, he was washed away.
On the same day, the Fire Service and Civil Defence unit of Cox's Bazar recovered the body of Abu Bakar, 11, from Bakkhali River near Dakkhin Mithachhari in Ramu.
Abu Bakar, son of Nurul Islam and a student of class V at Omkhali Primary School, went missing on Eid day afternoon when he, along with his friends, went to take a bath in Bakkhali river.
Meanwhile in Bogra, a 12-year-old boy drowned while bathing in Jamuna river at Prem Jamunarghat area of Shariakandi upazila in Bogra on Tuesday afternoon.
His body was found yesterday morning, at least one km away from the spot.
The deceased was identified as Nadim Mia, son of Nurul Haque of Mohirom village in Kalai upazila of Joypurhat.
Police and locals said that Nadim, along with some of his friends, went there on Tuesday afternoon. At one stage, they started bathing in the ghat of the river where suddenly Nadim went missing.