Journos unwavering in protecting society
Says chief justice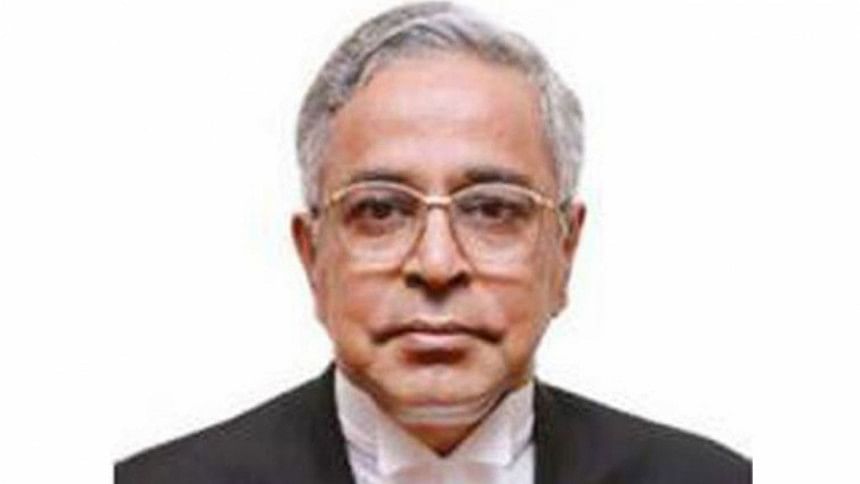 The role of journalism and media in removing inconsistencies from the society is as clear as day, said Chief Justice Syed Mahmud Hossain yesterday.
"Journalism is a noble and important profession. Journalists always remain alert with a commitment to let people know about their right to information as well as with a profound responsibility to inform people," he said.
He said this while speaking as chief guest at the inauguration of a workshop on "Legal Aid and Law Journalism" on the Supreme Court premises in Dhaka.
Supreme Court Legal Aid Committee (SCLAC) and Manusher Jonno Foundation (MJF) organised the programme for the Law Reporters Forum (LRF) at the SC conference room.
SCLAC Chairman Justice M Enayetur Rahim presided over the function where Attorney General Mahbubey Alam, Bangladesh Bar Council's Vice Chairman Advocate Yusuf Hossain Humayun, Supreme Court Bar Association President Advocate Zainul Abedin, Supreme Court Registrar General Dr Md Zakir Hossain, MJF Executive Director Shaheen Anam, Director General of Bangladesh Press Institute Md Shah Alamgir, Jatiya Press Club General Secretary Farida Yasmin, senior journalists Quazi Abdul Hannan and Md Badiuzzaman, among others, spoke.
The chief justice, who once worked as a journalist, said information regarding legal matters, law and order, human rights and legal services are disclosed through law journalism.
Journalists are performing their duties responsibly by publishing reports on the hopes, desires, expectations, achievement and failures, and aims and targets of people, he said.
He requested reporters to remain careful in publishing reports on comments made by SC judges during judicial proceedings in the courtroom. "Journalists should not write reports on comments, which are not related to  case records."
He said getting justice and right to take shelter of law is a fundamental human right. "The role of providing legal aid by the government in establishing the rule of law is limitless," he said, adding that in the socio-economic perspective of Bangladesh, it is never possible to achieve "equality in the eye of law" without legal aid.
The chief justice said a total of 3,28,126 people have received legal aid from the government's legal programmes till July this year. Laws related to legal aid should be included in the syllabus of law schools so that students can gather detailed knowledge on the issue, he added.
He said a separate division bench has been constituted for the first time in the history of the SC for hearing and disposing of the jail appeals. As a result, the rate of disposal of jail appeals has increased and the poor and helpless people are getting relief.
Speaking at the programme, MJF Executive Director Shaheen Anam said disposal of cases through alternative dispute resolution (ADR) system is a positive initiative, as it saves litigants' time and money in settling cases outside the court.
Justice Enayetur Rahim emphasised the need for including law journalism as a subject in university curricula.
Attorney General Mahbubey Alam said financial security is needed for journalists as they perform their duties diligently.