CJ for working together to materialise Bangabandhu's dream
Chief Justice Syed Mahmud Hossain today called upon all to work together to materialise the dream of Bangabandhu Sheikh Mujibur Rahman for building the country as "Sonar Bangla".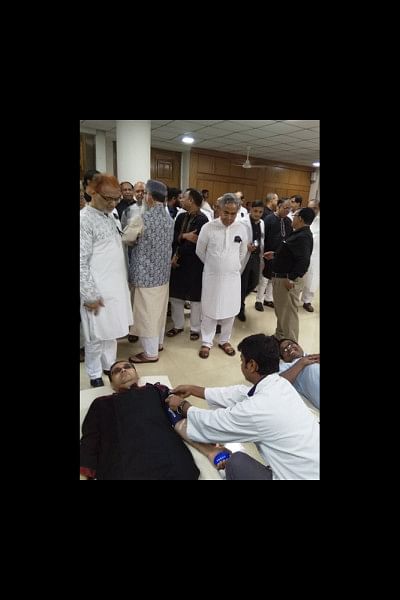 "The Father of the Nation had a dream to turn the country into Sonar Bangla. Our responsibility and target will be to work together to materialise the dream. If it is done, his [Bangabandhu] departed soul will have peace," he said. 
He was speaking at a blood donation programme organised by the Supreme Court in association with Bangabandhu Sheikh Mujib Medical University (BSMMU) at the SC Auditorium, marking the National Mourning Day.
Judges of the Appellate and High Court Divisions of the SC, its officials and staff attended the programme.
The chief justice said August 15 is the most shocking day in the history of Bangladesh, as Father of the Nation Bangabandhu Sheikh Mujibur Rahman and most of his family members were brutally assassinated on this day in 1975.
Justice Syed Mahmud Hossain paid respect to memories of all the martyrs of August 15, 1975.
Supreme Court Registrar General Md Zakir Hossain also spoke on the occasion, among others.
Earlier in the morning, the chief justice paid homage to the Father of the Nation by placing wreath at his portrait in front of Bangabandhu Memorial Museum at Dhanmondi-32 in Dhaka.