Journos protest 'death threat' to fellows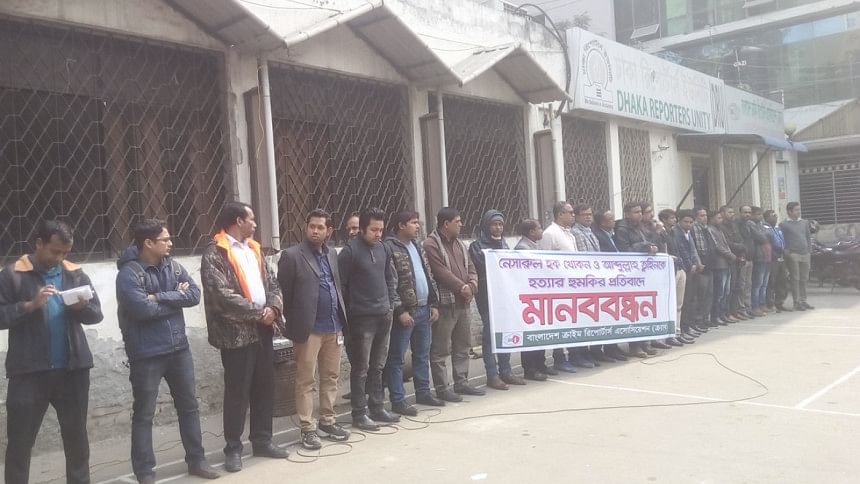 Journalist leaders today protested the death threats to two of their colleagues allegedly by Deputy Inspector General of police Mizanur Rahman for running news reports.
Journalists from different media outlets participated in the demonstration organised by Crime Reporters' Association of Bangladesh on its premises in the city.
DIG Mizan allegedly issued threats to Nesarul Haque Khokon, senior reporter of Bangla Daily Jugantor and Abdullah Tuhin, senior reporter of Jamuna Television, while he was talking to a TV presenter over the phone.
The threats came after the journalists ran reports on allegations against the police official of marrying a woman forcibly and torturing her.
Following the reports, a three-member committee led by an additional inspector general of police was formed to probe the allegations.
Mizan, who was additional commissioner of Dhaka Metropolitan Police, was withdrawn and attached to the police headquarters on January 9.
Demanding punishment to the police official, Dhaka Reporters' Unity President Saiful Islam, at today's demonstration, said it is not acceptable that the journalists will be given threats when they make reports on the misuse of power by any police official.
Crab President Abu Saleh Akon said the incident of torturing journalists and issuing threats for professional works are happening repeatedly due to the prevailing culture of impunity where killers of journalists do not face punishment.
Dhaka Union of Journalists (DUJ) President Sohel Haider Chowdhury urged the authorities concerned to withdraw all facilities that Mizan enjoys as DIG so that he can not intervene in the probe.
They also expressed deep concern as "police did not record" a general diary when the journalists pursued the matter with Bhatara Police Station seeking security.
Meanwhile, DMP Commissioner Asaduzzaman Mia, replying to a query in another programme, said police were to register GD if anyone goes to a police station.
"If anyone was denied lodging GD, he can file complain to high officials. I am police commissioner but I do not get any such allegation…..complaint can be lodged with the court too," he said.
However, journalist Khokon said he talked to the DMP commissioner over the phone on January 11 and informed him that police are not taking GD. He claimed that he had a voice record of the conversation.