'There is no planet B'
Dhaka students join global climate strike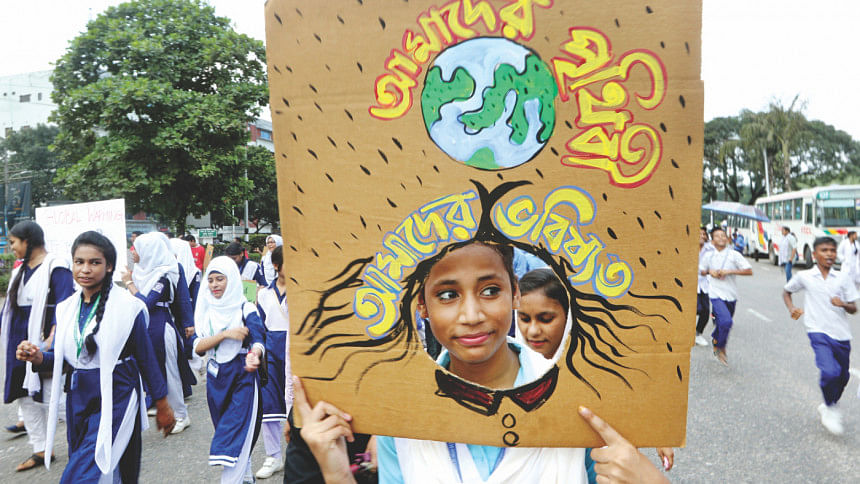 Hundreds of children from different schools and colleges in Dhaka staged a demonstration on Manik Mia Avenue yesterday, urging world leaders to act against climate change.
They also formed a human chain and brought out a procession there, expressing solidarity with the "Global Climate Strike" in response to the call of Swedish climate activist Greta Thunberg.
As part of the movement, green activists, NGO workers and students formed human chains at several places in the capital to generate awareness on climate crisis.
Criticising developed nations for their role, green activists called for reducing carbon emissions to limit the global warming to 1.5 degree Celcius. They also sought an active role of world leaders in this regard.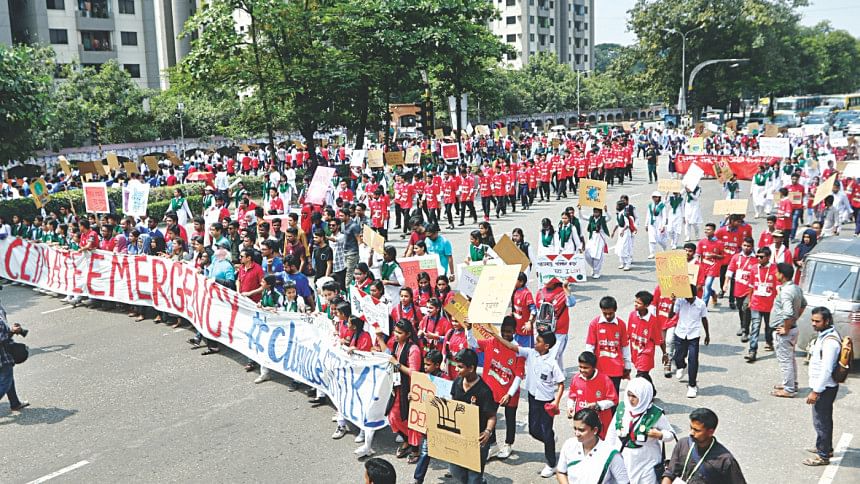 Save the Children in Bangladesh and Green Saver Association jointly organised the event, engaging children and youth platforms including Girl Guides and Rover Scout Bangladesh.
Students at the event declared "climate emergency" in Bangladesh.
On August 20, 2018, Swedish climate activist Greta Thunberg, then in ninth grade, decided not to attend school until the 2018 Sweden general election on September 9 after heat waves and wildfires in Sweden. Holding a placard that read, "School strike for climate", she staged a protest outside the Swedish parliament.
The school strike for climate, also known as Fridays for Future (FFF), is now an international movement of school students who take time off from class to participate in demonstrations to demand action to prevent further global warming and climate change.
The movement is not only spreading among children around the world but also at policy-making levels in the countries most vulnerable to climate change.
Yesterday, millions of people from Sydney to Manila, Dhaka to London and New York marched for urgent action on climate breakdown.
As part of the movement, children gathered on Manik Mia Avenue, holding colourful banners, festoons and placards with slogans -- "Our world, Our Future", "Plant Trees and Save the World" and "There is No Planet B" -- to show solidarity with the call.
Meanwhile, Center for Participatory Research and Development, COAST Trust, Coastal Development Partnership, Network on Climate Change Bangladesh and Shariatpur Development Society (SDS) organised a human chain in front of Jatiya Press Club, said a press release.
Rapid deforestation is gradually destroying nature's capacity to absorb carbon dioxide whereas carbon emissions is on the rise due to urban sprawl, speakers said.
Though scientists have warned about the adverse effects of climate change, countries responsible for carbon emissions are yet to shoulder the liability, they added.