HC cancels GK Shamim's bail in arms, narcotics cases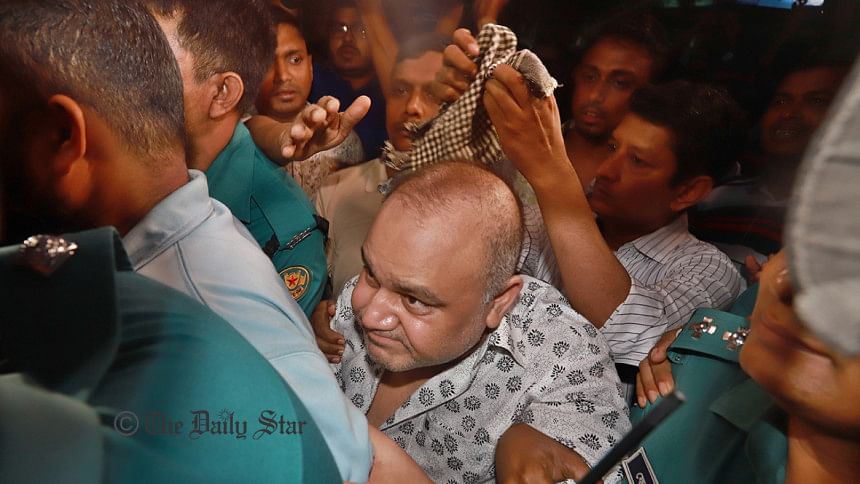 The High Court today withdrew its earlier order that granted bail to GK Shamim in two separate criminal cases.
Two HC benches passed the recall orders on a suo moto (voluntary) move.
The reasons for which the HC passed the recall orders could not be known, as the full texts of the orders have not been released yet.
The HC bench of Justice AKM Asaduzzaman and Justice SM Mozibur Rahman withdrew its earlier order that granted bail to GK Shamim in an arms case.
Later, another HC bench of Justice Md Rezaul Haque and Justice Bhishmadev Chakrabortty passed the recall order in a drug case.
Shamim's lawyer Advocate Momtazuddin Ahmed Mehedi told reporters that his client can move a fresh petition before the HC for bail.
Shamim may also move an appeal before the Supreme Court against today's order, Mehedi added.
Two separate HC benches granted bail to Shamim for six months in a narcotics case and for one year in an arms case in the first week of February, his lawyer Shawkat Osman confirmed to The Daily Star yesterday.
HC granted the bail as Shamim has been in jail for over five months, while the maximum punishment in the cases is six months' imprisonment, he said.
The lawyer said the bail bond for Shamim was furnished before the lower court concerned last week.
Osman said Shamim could not be released from jail following the HC order, as he is arrested in two other criminal cases.
And this is the reason why Shamim did not disclose the information to the media, he added.
On September 20, a team of Rapid Action Battalion (Rab) arrested Shamim, an influential contractor of the Public Works Department and an expelled Jubo League leader, on charges of extortion and tender manipulation. His bodyguards were also arrested.
On that day, Rab raided his house and office in the city's Niketan area and seized eight firearms, a huge amount of ammunition, bank fixed deposits worth Tk 165 crore, around Tk 1.8 crore in cash, a large stash of US and Singaporean dollars and some foreign alcohol.
Later, Rab lodged three cases under the Narcotics Control Act and Arms Act against Shamim with Gulshan Police Station. Anti-Corruption Commission also filed a case against Shamim and his mother for amassing wealth worth Tk 297.08 crore beyond known sources of income.