Dia's father urges students to go home
Families of road crash victims meet PM; receive financial assistance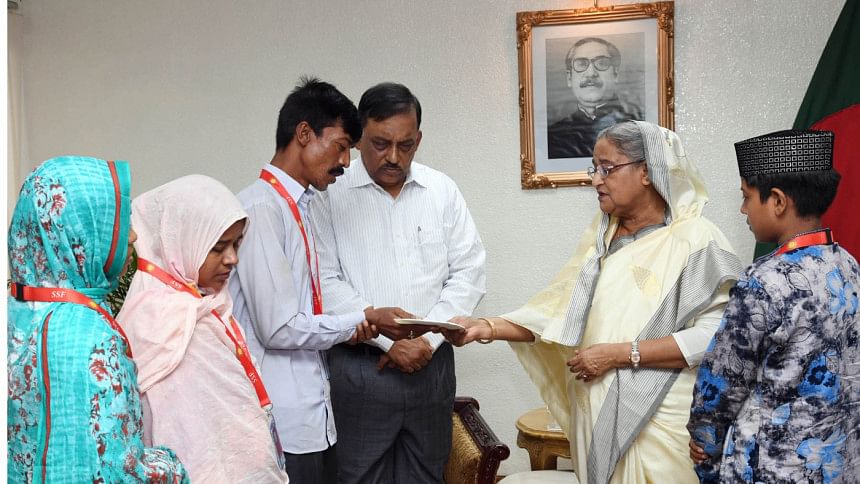 Jahangir Fakir, father of road accident victim Dia Khanam Mim, yesterday urged the students to go back home as he expressed optimism that the prime minister would take effective measures to check road accidents.
He made the call during a meeting with Prime Minister Sheikh Hasina at her office.
"We want students to go back home as measures will be taken to prevent such accidents in future," Prime Minister's Press Secretary Ihsanul Karim quoted Jahangir as saying.
College students Dia and Abdul Karim Rajib were killed in a road crash in the capital on July 29.
Dia and Rajib's family members and the principal of Shaheed Ramiz Uddin Cantonment College were also present at the meeting.
Briefing reporters after the meeting, Ihsanul said the premier consoled the bereaved family members and donated a savings certificate of Tk 20 lakh to each of the families.
On Sunday, Dia and Rajib of Shaheed Ramiz Uddin Cantonment College were killed as a bus of Jabal-e-Noor Paribahan ploughed into some students in front of Kurmitola General Hospital on Airport Road.
The tragic accident sparked massive student protests across the country which continued for the fifth consecutive day yesterday.
Dia's father Jahangir became emotional while talking to the PM, said Ihsanul.
Expressing sympathy to the bereaved family members, Hasina said she had no word to console them and she understood their pain as she lost most of her family members in 1975.
Raising some problems of the transport sector before the PM, Jahangir, a former bus driver, said bus and truck drivers become exhausted due to non-stop driving on long routes, which leads to accidents in many cases.
The two families expressed their gratitude to the premier for the meeting.
Hasina attentively listened to Jahangir and other family members of the victims. She said directives have already been given so that no vehicle can run on roads without fitness certificate and licensed driver.
She said measures were also being taken to set up restrooms for drivers at certain distances on highways.
Ramiz Uddin College Principal Nur Nahar Yeasmin said many students of her college were from low income families and they come to the college from distant places, including Gazipur and Kapasia. She requested the PM to arrange buses for her students.
Hasina instantly made some decisions, including deployment of traffic police at road crossings near all city schools and construction of speed bumps on roads adjacent to schools to prevent road accidents.
The other decisions are construction of an underpass below Airport Road, adjacent to Ramiz Uddin Cantonment College, and providing five buses for students of the college.
She asked the children of the two families to pursue study attentively.
Home Minister Asaduzzaman Khan, Prime Minister's Principal Secretary Nojibur Rahman, Secondary and Higher Education Division Secretary Sohrab Hossain and PMO Secretary Sajjadul Hassan were present.