Ensure transparency in public, private sectors: President to CAs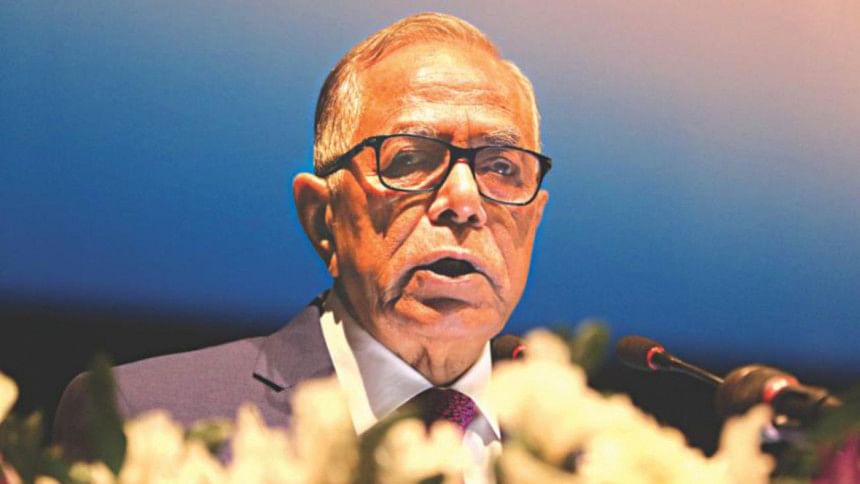 President Abdul Hamid today urged Charted Accountants to play a responsible role in ensuring transparency and accountability in public and private sectors.
 The President made the call while speaking at 'South Asian Federation of Accountants (SAFA) International Conference 2019' organised by the Institute of Chartered Accountants of Bangladesh (ICAB) at Sonargaon Hotel in the capital.
"The size of Bangladesh's economy has increased manifold today. In 2005-06 fiscal year, the size of our budget was Tk 64,000 crore. The size of the proposed budget for the 2019-20 FY has been estimated to be Tk 5,23,000 crore, which is an eight-fold increase," he said.
At the same time, the trade and commerce of the country have expanded. "Chartered accountants, therefore, will have to play a responsible role in ensuring accountability and transparency in the public and corporate sectors," he said.
Mentioning that the theme of the conference 'Foreign Direct Investment: Destination Bangladesh' as important in the context of Bangladesh, Hamid said: "Bangladesh is a developing country and is moving forward towards progress with a desire to become a developed country by 2041. The role of Foreign Direct Investment is very important in sustaining this growing trend in the economy."
Saying the opportunity to invest in Bangladesh is immense, he said the government is establishing 100 economic zones to encourage Foreign Direct Investment. One-stop service law-2018 and related policies have also been formulated to provide all necessary services to investors at the earliest and through a single window.
 He said 125 types of services under 27 categories, including industry licenses, approval and permit, are being provided from the 'One-Stop Service'. Besides, the government is providing investors with various benefits, including tax rebates.
 "There's a golden investment opportunity in Bangladesh. I believe this conference will play an important role in harnessing this opportunity and presenting existing opportunities to local and foreign investors," he added.
 Welcoming all the guests from SAARC countries and international organisations to Dhaka, Hamid said, the theme 'Foreign Direct Investment: Destination Bangladesh' is a very timeworthy approach not only for Bangladesh but also for South Asian countries.
"The people of this region have been sharing common values, culture and heritage and also facing same challenges. Therefore, we have to put in our united efforts to combat the problems."
Terming Bangladesh a safe and suitable destination for FDI, Hamid said: "Our government has offered various facilities and incentives for the foreign investors. Keeping theses in consideration, I hope that foreign investors will come forward and set their investment destination to Bangladesh."
He hoped that this conference will play a catalytic role in achieving the desired goal of Father of the Nation Bangabandhu Sheikh Mujibur Rahman's dream of building a poverty-free prosperous 'Sonar Bangla'.
He said most countries in South Asia are small and populous but this region has very potential human resource.
"Professionals like you have an important role in developing this region," he said. "Your role in ensuring transparency and accountability should be for combined interest and welfare. I expect the sustainability of the economy of this region and continuity of the trend of development."
The President also formally declared the SAFA International Conference 2019 Opening.
SAFA was formed in 1984 to serve the accountancy profession in the South Asian Region and uphold its eminence in the world of accountancy. SAFA is an apex body of SAARC and an Acknowledged Accounting Grouping of International Federation of Accountants (IFAC).
SAFA represents over 3,00,000 accountants having membership of the national chartered accountancy and cost and management accountancy institutions in the South Asian countries namely Bangladesh, India, the Maldives, Nepal, Pakistan and Sri Lanka.
Private Industry and Investment Adviser to Prime Minister Salamn F Rahman, ICAB President AF Nesaruddin, President of SAFA Jagan Mohan Rao were also present at the programme while Professor Mostafizur Rahman presented the keynote speech on the topic.