Bijoy Sarani-Shahbagh off limits for tomorrow
Islamic Foundation to observe its 42nd anniversary with a gala rally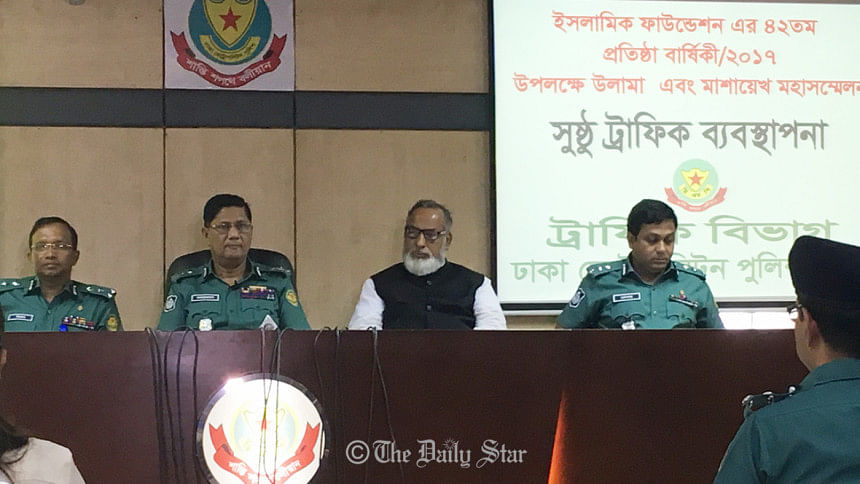 - Bijoy Sarani-Shahbagh-Matsya Bhaban off limits
- Bar starts around 11:00am and stays till 6:00pm
- DMP requests not to go to markets
Dhaka city police will keep some key thoroughfares off limits for tomorrow for a grand rally of the Islamic Foundation and has warned city dwellers of heavy traffic.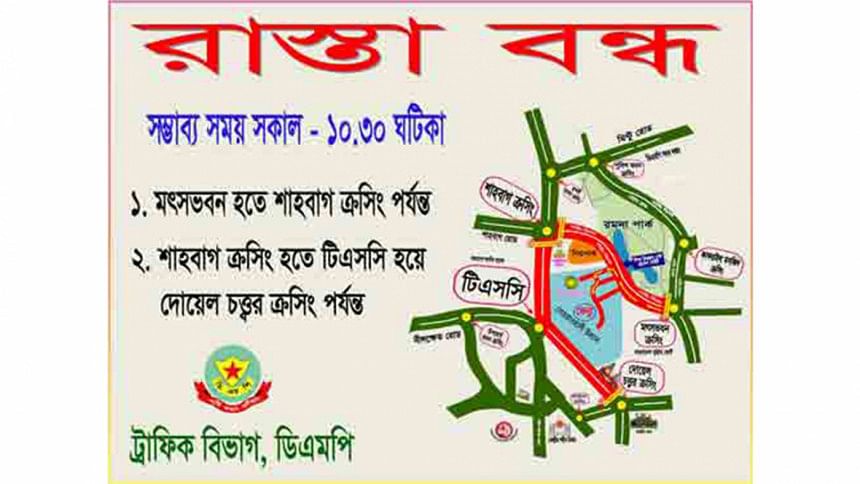 The rally will begin at Suhrawardy Udyan tomorrow at 3:00pm, said Dhaka Metropolitan Police Commissioner Asaduzzaman Mia. "Prime Minister Sheikh Hasina will inaugurate the rally."
"We are also requesting you all (citizens) not to bring out private cars on the roads tomorrow because there will be 2,500 additional vehicles to carry the participants of the rally," he added.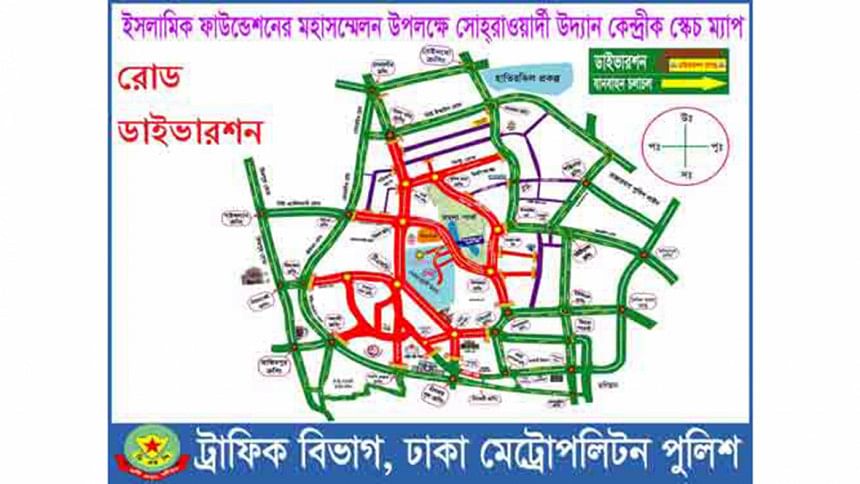 Warning of heavy traffic situation tomorrow, the DMP boss requested city dwellers to avoid going to Bashundhara City and New Market shopping malls.
Bangladesh Islamic Foundation will hold the grand rally tomorrow celebrating its 42nd anniversary.
Around two lakh people will arrive in the capital tomorrow to join the rally. A team of six khatibs and imams will come in Bangladesh from Makkah and Madina to attend the rally.
Vehicular movement will remain suspended on 25 points.
The roads of Bijoy Sharani, Khamarbari, Bangla Motor, Maghbazar, Paribagh, Sakura Gali, Police Bhaban, Sabji Bagan, Mintoo Road (east), Officers Club, Kakrail Church, Shilpakala, ACC office, Karpet, Matsya Bhaban, Kadam Foara, High Court, Shahidullah Hall, Bakshibazar, Palashi, Nilkhet, Ruman Chattar, Kantabon, Shahbagh and Aziz Super Market will remain blocked following the programme.
Besides, both sides of the road from Shahbagh to Matsya Bhaban and Doyel Chattar will remain suspended from 10:30am tomorrow, the DMP commissioner said.
The bar will be withdrawn as soon as the Bangladesh Islamic Foundation rally ends.