Admission Test: DU withholds Gha unit results
Decision comes amid allegations of question leak; authorities to wait for probe report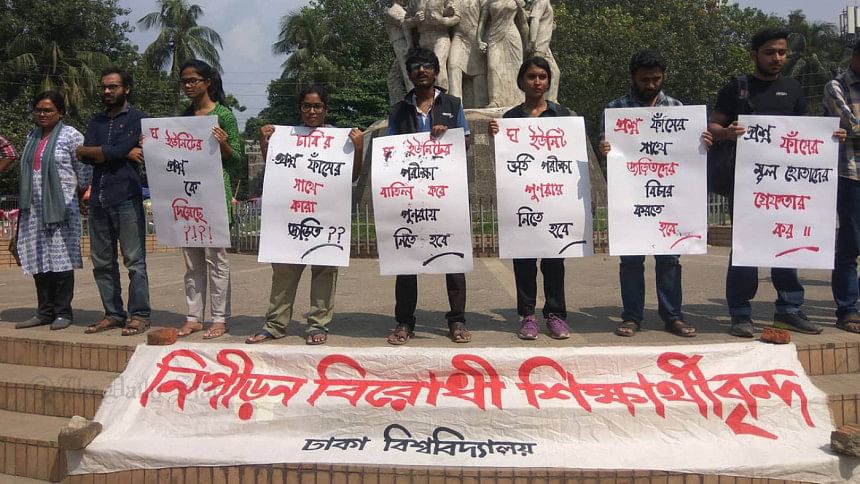 The Dhaka University authorities yesterday postponed the "Gha" unit admission test results following allegations of question paper leak.
"The probe body formed over the incident is yet to submit the report. We will take further decisions regarding the admission test after receiving the report from the committee," DU Vice-Chancellor Prof Akhtaruzzaman told The Daily Star yesterday.
Earlier in the day, the authorities issued a press release saying that the exam results would be published today. But hours later, another press release was issued stating: "The previous press release was sent because of wrong information given by the assignment officer of the vice chancellor office...."
Read More: Question paper leaked 45 mins before test
It added that activities (mentioned) in the release had been postponed as per the directive of the VC and apologised for the earlier press release.
The admission tests for "Gha" unit were held Friday amid allegations of question paper leak. The university authorities formed a three-member probe body the next day and asked it to submit a report within 48 hours.
Law enforcers have found evidence that hand-written question papers of DU "Gha" unit admission test were leaked 43 minutes prior to the exam and circulated by two admission information centres in Bogura.
Six people, including an admission seeker and his father, were arrested on Saturday in connection with the incident. Each of them were taken on a two-day remand on Sunday.
On Saturday, DU's Chief Security Officer SM Kamrul Ahsan filed a case with Shahbagh Police Station, accusing the six and some others, under sections 22 and 33 of the Digital Security Act, and the Public Examination Act. The case statement said that the questions were leaked through digital devices prior to the exam.
Last year, the university authorities published the results of "Gha" unit admission test within the shortest period of time amid protest and outcry over allegations of the exam paper being leaked.
Meanwhile, some students of DU yesterday demonstrated on the campus, demanding resignation of the Dean of the Social Science faculty Sadeka Halim over her failure to prevent the leak of question.
Under the banner of "Students Against Repression", around 30 students formed a human chain at the base of Raju Memorial Sculpture, in which some admission seekers also took part.
Speaking at the gathering, Abu Raihan Khan, a student of the mass communication and journalism department, said some journalists presented evidence of the leak before the exams had begun. But the university administration denied the allegation without an investigation.
The protestors also demanded a retake of the admission test.
"We want proper evaluation of our talent. The examination was nothing but a farce. We urge the university authorities to retake the admission test," said an applicant who appeared in Friday's Gha unit intake test.
Those gathered later brought out a procession from the spot which paraded through different streets of the campus.