DU Career Fest to be held July 16-17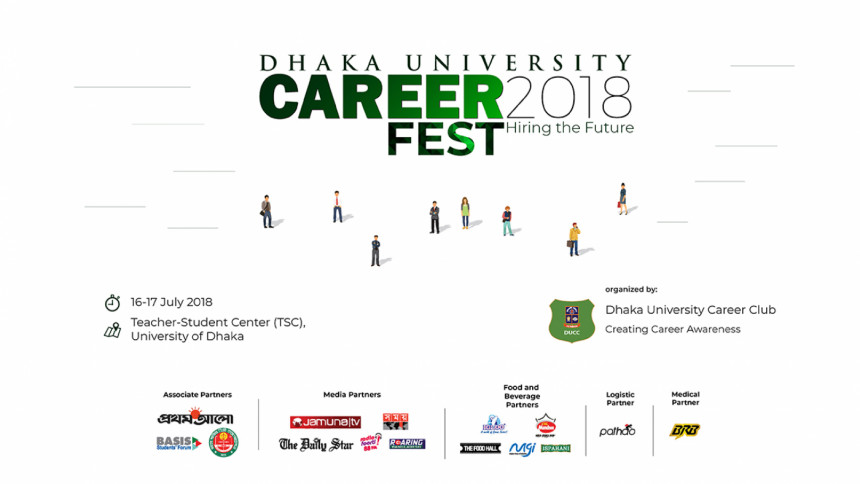 A two-day long job fair is going to be held on the University of Dhaka campus titled "Dhaka University Career Fest 2018 - Hiring Your Future".  
Dhaka University Career Club (DUCC), one of the biggest and prestigious clubs of the university, will organise the career fair on July 16-17 at DU's Teacher-Student Centre (TSC), according to a DUCC press release.
This is the third time DUCC is organising a job fair on the DU campus, however, this time the programme is exclusively planned for students from across the country, with more than 30 reputed employers participating in the fair to look for their potential employees.
16 private and public universities are also being affiliated with this event, according to the release.
The opening ceremony will be held at 9:30am on July 16 with DU Vice-Chancellor Professor Akhtaruzzaman as the chief guest.
There will be three sessions in total. The first session will be on CV writing and professional skills development from 2:00pm to 4:00pm on July 16. The second session will be on government jobs and Bangladesh Civil Service (BCS) examination from 10:00am to 12:30pm on July 17 while the third session will be on Career Talk from 2:00pm to 4:00pm on the same day.
All the sessions will be held at the TSC auditorium. The career fest will conclude with a closing ceremony on July 17.
DUCC has been arranging seminars, workshops, recruitment tests and competitions for creating career awareness as well as opportunities for students. To keep up the legacy, the club has come up with the job fest this time on a much larger scale, already creating a great amount of hype among the students.  
The event is going to be arranged in affiliation with the Prothom Alo, BASIS Students Forum, and Dhaka South City Corporation as associate partners. Pathao is the logistics partner, The Food Hall is the food partner, Igloo is the ice cream partner, BRB is the medical partner, and Meghna and Ispahani are beverage partners of the career fest.
The Daily Star is one of the media partners of the event.