Dhaka raid case handed to counter-terror unit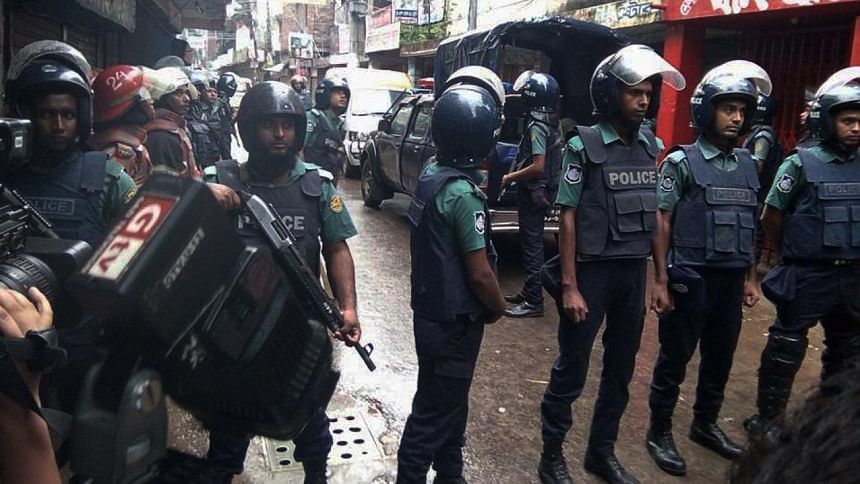 The case filed over the much lauded Dhaka raid in Kalyanpur on July 26 has been handed over to the specialised counter-terrorism unit of Bangladesh.
Mirpur Police Station Inspector Sazzad Hossain told The Daily Star the lawsuit, filed under Anti-Terrorism Act, was handed to Counter Terrorism and Transnational Crimes unit last night.
READ MORE: 'Trainer of Gulshan café attackers' among dead
Inspector Jahangir Alam, of the counter terrorism unit, will be the new investigation officer of the case, he added. Mirpur police's Inspector Shah Jalal Alam filed the case.
Following the Kalyanpur shootout and the killing of the militants, police on Wednesday filed a case with Mirpur Model Police Station under Anti-Terrorism Act.
READ MORE: 9 MILITANTS KILLED in Dhaka hideout
Tuesday's Dhaka raid in Kalyanpur began with a block raid after midnight and ended with a special operation of the joint forces – codenamed "Storm 26" – that morning. Nine militants were killed.
One militant was held captive, who identified himself as a follower of the Islamic State. Another suspected militant managed to escape. Police said they were militants of banned outfit Jama'atul Mujahideen Bangladesh (JMB).
Prime Minister Sheikh Hasina commended the operation, thanked the law enforcers and intelligence agencies, and said the swift actions helped save the country from a major catastrophe.