Chawkbazar fire caused by gas cylinder blast: Mayor
Transfer of chemical substances from Wahed Mansion starts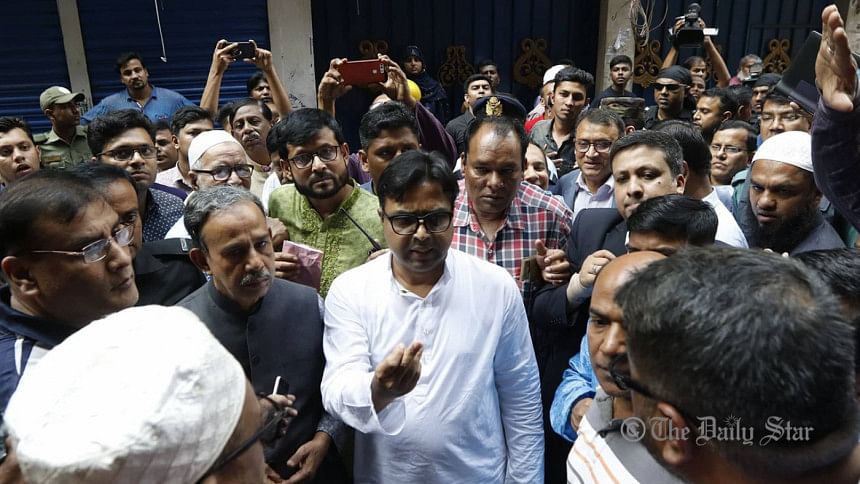 The fire that left 67 people dead in Old Dhaka originated from a blast of a private car's gas cylinder, Dhaka South City Corporation (DSCC) Mayor Sayeed Khokon today said quoting police.
The mayor made the disclosure while briefing reporters today during his visit to Chawkbazar area where the fire ripped through the old town area killing at least 67 people on Wednesday.
READ MORE: Chawkbazar fire footage shows trail of destruction
"I have come to know from police that the fire was caused by a private car's gas cylinder explosion," he said.
There were one or two cars more which came in contact with the blast instantly, he quoted police as saying.
ACTION IF ANYONE STORES CHEMICALS IN OLD DHAKA
Warehouse owners will face legal action if they store any flammable substances in Old Dhaka from now on, the DSCC Mayor Khokon has said.
The mayor came up with the warning while briefing reporters during his visit to Chawkbazar area in the old Dhaka today.
He also urged the locals to stay alert so that no one can store any chemical substances there.
If anyone violates the instruction, please inform the city corporation, nearby police station or deputy commissioners immediately, he told reporters.
He gave a hotline number -- 9556015 -- to inform the authorities in this regard.
However, the DSCC authorities started to transfer the chemicals from the basement of the Haji Wahed Mansion to another place today.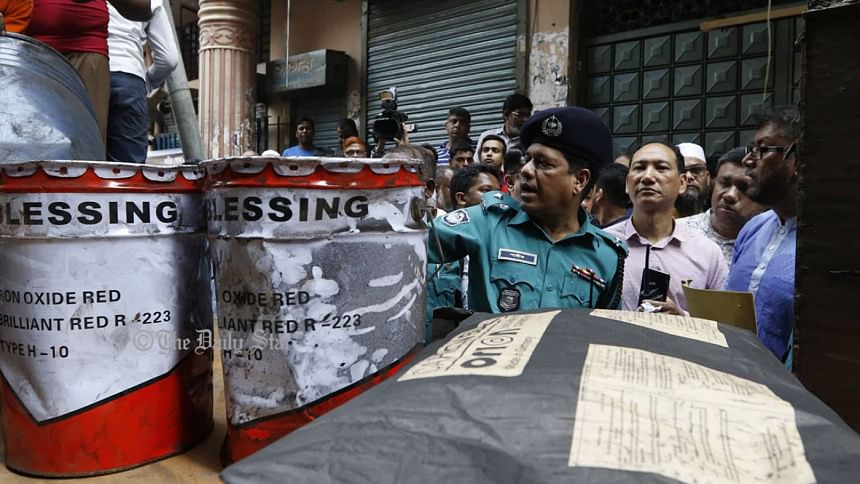 The old town blaze could have been even more devastating had the flames came into contact with the huge stockpile of chemicals in the basement of the building.
Chawkbazar locals demand shutting down all types of gas cylinders
Locals in Chawkbazar have been demanding to shut off all types of gas cylinders after the fire ripped through the area Wednesday night.
Around 1:15pm, more than 100 people took to the streets and placed their demand when the DSCC mayor was visiting the spot, reports our photojournalists.
A devastating fire broke out at Old Dhaka's Chawkbazar area around 10:40pm on February 20, leaving 67 people dead at the spot.
Autopsies found all the victims were burned alive.
The victims are mostly pedestrians, people travelling on rickshaws and cars, residents of the buildings as well as owners and staffers of the shops and warehouses at the buildings.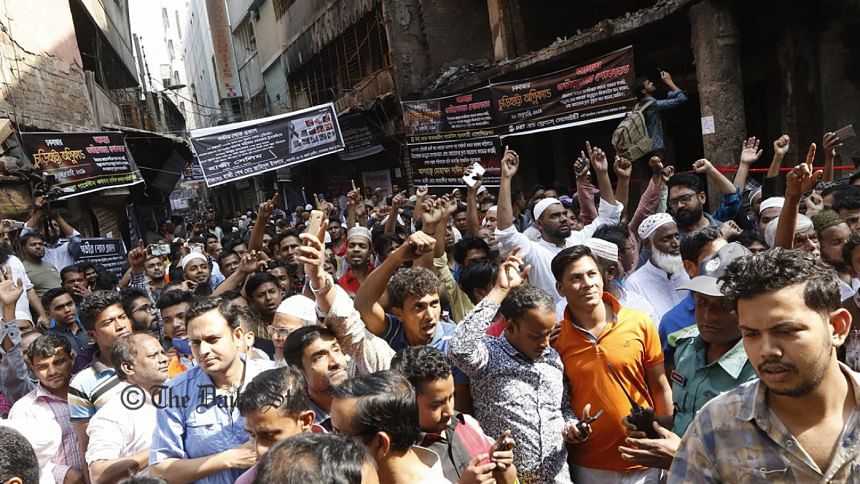 The Chawkbazar fire, which sparked from a chemical warehouse, is the second deadliest chemical-fuelled fire in the country after the 2010 Nimtoli incident.