Rain throws city into chaos
Rain may linger, reduce from Wednesday
Torrential rainfall that inundated most parts of Dhaka and threw the city into chaos this morning is likely to linger tomorrow and show signs of reducing the day after.
Bangladesh Meteorological Department said in its bulletin that the rainfall is being caused by an active monsoon season and will stay for a while throughout the country.
"We can say that the intensity of the rain is likely to reduce in Dhaka from day after tomorrow (Wednesday)," Md Rasheduzzaman, a Met officer, told The Daily Star.
"But until then, the heavy rainfall is likely to continue," he said. He also hoped that the rainfall throughout the country will show signs of easing down by Wednesday.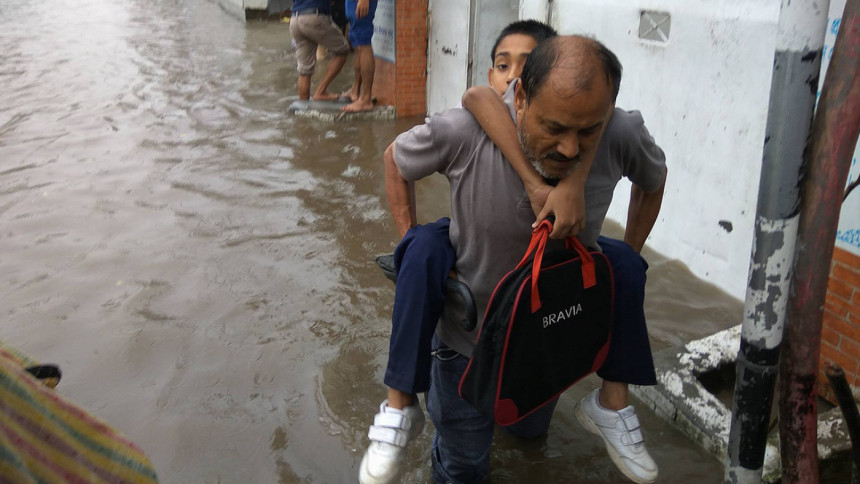 Meanwhile, Met office recorded 66mm rainfall from 6:00am to 9:00am, a downpour which submerged key thoroughfares of Dhaka city and inundated several areas.
According to reports from the ground, the rain inundated parts of Karwan Bazar, Dhanmondi-27, Dhanmondi-8, Green Road, Khilgaon, Motijheel and some other areas.
Commuters were seen stranded on roads, struggling to find a vehicle or wade through knee-deep or ankle-deep waters on the roads holding an umbrella overhead.
Also, it brought the city to a halt as long tailbacks pursued on the key thoroughfares.
Met office forecasts light to moderate rain accompanied by temporary gusty winds in most places over Mymensingh, Rangpur, Barisal, Chittagong and Sylhet divisions.
Heavy to very heavy rainfall might occur over Rajshahi, Dhaka and Khulna divisions.