Swaying voters on the digital space
A look at mayoral candidates' social media campaigns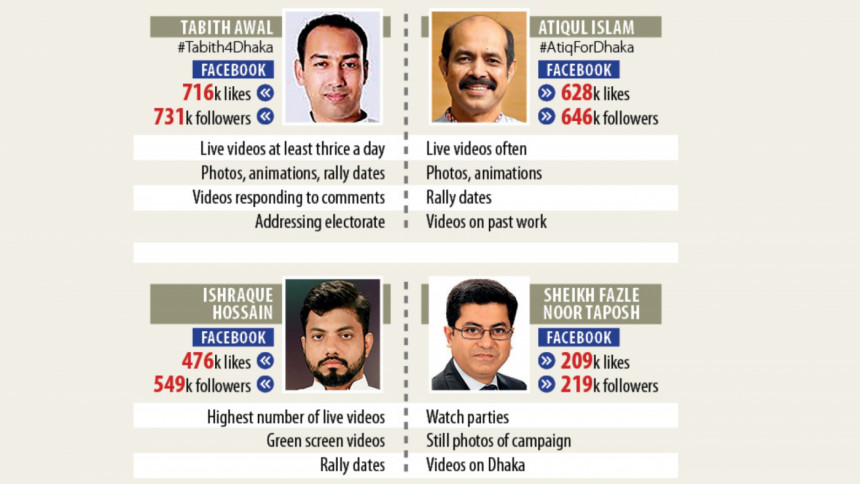 With close to 100 million internet users in the country, everything from shopping to entertainment is moving online, and it is no surprise that mayor and councillor candidates for the two Dhaka city corporation elections have jumped on the bandwagon. From live broadcasts to inspirational videos and at least one hip-hop song groovy enough for dance parties, the competition for voters' attention on the virtual space is no less serious than the real world.  
According to the 2018 digital report of global creative agency We Are Social, there are 30 million active social media users in Bangladesh, and the country's median age currently stands at 27 years. Social media is proving to be an effective channel to reach out to the younger demographic, considering many of them are first-time voters.
This year, mayoral candidates took social media seriously from the start. No longer relying on accidental hits like Manik Bhai er Salam Nin, we saw organised efforts from the candidates to reach the digital audience.
IN REAL LIFE, AND ON FACEBOOK LIVE
With one look at the four major mayoral candidates' activity on Facebook, it is evident that the battle for the digital audience has heated up in Dhaka North City Corporation (DNCC). With an array of content on different topics, both Atiqul Islam and Tabith Awal are going on Facebook Live a few times a day, broadcasting campaigns and street rallies.
Although innovative at the start, the medium has become quite repetitive as the election draws nearer. However, it is Dhaka South City Corporation's (DSCC) BNP-backed aspirant Ishraque Hossain who has embraced Facebook Live more than anyone else.
OVER AT THE SOUTH
Even if his followers miss Ishraque in real life, his Facebook page has live videos from the field every hour, with a whopping 21 videos posted on January 23 alone.
However, there is little variety of content on his social media. Like all other candidates, he posts rally dates and times, and has shared a few basic videos where he speaks to electorates about the issues he plans to tackle.
AL-backed candidate Barrister Sheikh Fazle Noor Taposh appears to be putting the least importance on social media. Instead of live videos, he is the only candidate to hold "Watch Parties" on Facebook. His Facebook page also has still photos of his campaign, alongside video clips of talk shows addressing the electorate; some motivational videos on the future of Dhaka, and daily videos where he addresses topics like the history and beauty of Dhaka, but rarely provides concrete information on his plans for the city.
Repeated attempts were made by multiple reporters to reach both DSCC candidates and their campaign officials for comments on their online campaigns, but neither parties responded.
THE NORTH-SIDE PICTURE
Candidates of the north have a better-curated social media presence. AL's Atiqul Islam is using his 11-month of experience as mayor to his advantage, posting photos, videos, animations and infographics highlighting both his past work and future plans. There are photos and videos of him interacting with people, hugging, laughing, singing, and playing sports -- painting a "relatable" image designed to elicit an emotional response.
Tabith Awal told this newspaper over phone last week that instant feedback from the public is a big advantage of social media campaigning. He has been posting videos on his Facebook page, where he responds to comments. "It is easier to target voters through digital campaigning. We can reach the Bangladeshi diaspora, future voters, as well as international stakeholders and influencers. Most importantly, it is a two-way medium, constantly giving me something to work on according to the electorate's response," said the BNP-backed DNCC mayor candidate.
Echoing the comment on instant feedback, Toufiq Zahidur Rahman, who works with Atiqul on his campaign, also mentioned the environmental benefits of online campaigning. "It reduces waste to a great extent, and largely extends our reach beyond traditional campaign methods," he told this newspaper.
A LEVEL-PLAYING FIELD?
On one hand, there are reports of attacks on candidates and supporters' rallies, while voters are also growing increasingly weary of traditional campaign methods that involves the nuisance of loudspeakers, laminated posters, biker gangs, and more.
Against such a backdrop, adapting to the digital age not only seems to provide a more level-playing field, but also to capture the large youth population online.
Both AL and BNP candidates of DNCC mentioned the huge reach of social media and environmental benefits of online campaigning as major advantages. On the internet, all candidates can sponsor posts with specific groups of voters in mind, without having to worry about their physical security or exhaustion. This medium also allows the audience to access a large pool of information about the candidates with just a few clicks. As the polls draw nearer, number of sponsored posts from all candidates have also increased.
The Election Commission, which imposes rules on campaign code of conduct has not specified rules for social media – like allowed dimensions for visuals, or bar on advertisements, giving candidates more flexibility in terms of time and audience targeting.
On the topic, Toufiq Zahidur Rahman said, "It is more important to remain civil and not attack each other, regardless of specific regulations."
Tabith Awal highlighted the importance of data collection for online campaigning, and said the regulation should be brought on data, instead of restrictions on online campaigning.
WHERE IT ALL BEGAN
The power of social media in electoral promotions first truly came to light during the 2018 national election, after a song titled "Manik Bhai-er Salam Nin" took Facebook and Youtube by storm. Although the aspirant -- Hasibur Rahman Manik -- failed to secure Awami League's nomination for a seat in the parliament, the eclectic song remained on people's mind the entire campaign period.
The ruling party's "Joy Bangla, Jitbe Ebar Nouka" also made a strong impression at the time. Not only was it a meme favourite on Facebook and a popular track for videos on the TikTok platform, it even gained popularity as 'gaye holud' dance numbers, with the polls coinciding with the wedding season.
BNP took a different route at the time, releasing a video featuring its Secretary General Mirza Fakhrul Islam Alamgir in a rousing call to action, specifically targeted to first-time voters, urging them to exercise their franchise.
THE VIRAL HIT OF THE SEASON
As some candidates build their online presence and others fall behind, there has been one person this election season who has harnessed the power of social media at its greatest. Aleya Sarwar Daisy, a councillor candidate for DNCC's ward-31, produced a hip-hop track that outlines her plans for the area that has been all over social media.
"I want to work for the young generation, and I focused on them with this song," Daisy told The Daily Star. "I wanted to do something unique."
With over 6,000 shares on the original video and countless reposts, "Daisy apa-r salam nin" is the track that will define this election season as the youth's chosen groove, regardless of the election result.