Govt fixes fees of medical tests for dengue diagnosis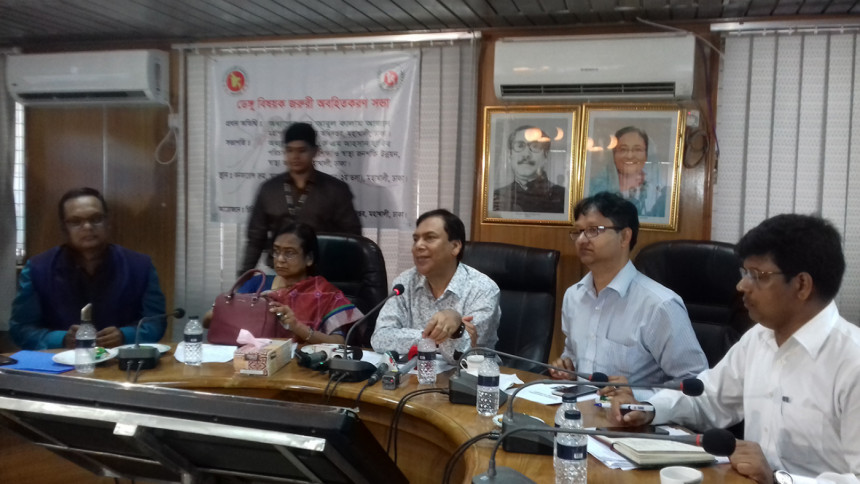 The government today fixed the fees for the medical tests to diagnose dengue at all private hospitals, clinics and diagnostic centres across the country.
The decision has been taken to tackle the ongoing outbreak of dengue, a mosquito-borne deadly disease, in the capital and across the country.
According to the decision, the maximum fees for NS1 Antigen test will be Tk 500, IgG + IgM or IgG/IgM test Tk 500, and CBC (RBC + WBC + Hematocrit) test Tk 400.
Prof Abul Kalam Azad, director general of the Directorate General of Health Services (DGHS), said this while addressing a press conference on overall dengue situation at his office in Dhaka today after holding a meeting with owners and managing directors of private hospitals and clinics.
Besides, the dengue diagnosis tests can be done free of cost at all public hospitals across the country, he said.
Earlier, the costs of the tests at private diagnostic centres, hospitals and clinics were: Tk 1,200- Tk2,000 for NS1 Antigen test, Tk 800- Tk 1,600 for IgG + IgM or IgG/IgM, and Tk 1,000 for CBC test.
As part of the government's efforts to fight the dengue outbreak, all public and private hospitals and clinics have been asked to open special help desks to accelerate services to the dengue infected patients, the DG said.
He also said that a separate ward has been opened only for the dengue patients at the Bangabandhu Sheikh Mujib Medical University (BSMMU).
As part of building awareness, students of all the public and private medical colleges will visit all educational institutions across the country on Thursday, he said.
Besides, teachers of public medical colleges will conduct seminars to build awareness at all these hospitals and clinics from the next week, Prof Azad said at the press conference.
Meanwhile, the government has formed a total of 50 training teams with skilled doctors and they will begin visiting all public and private hospitals from this week, he said.
Also, a total of 10 monitoring teams with three members each have been formed to monitor the overall dengue situation across the country round the clock.
"Our capacity to deal with the dengue crisis is limited. But our main target is to save peoples' lives and provide them proper treatment," the DG said at the press conference.
He also called upon all the doctors of all public and private hospitals and clinics to follow the national guideline in providing treatment to the dengue infected people.