Cops foil Rampal march
3 left-leaning bodies condemn action as attack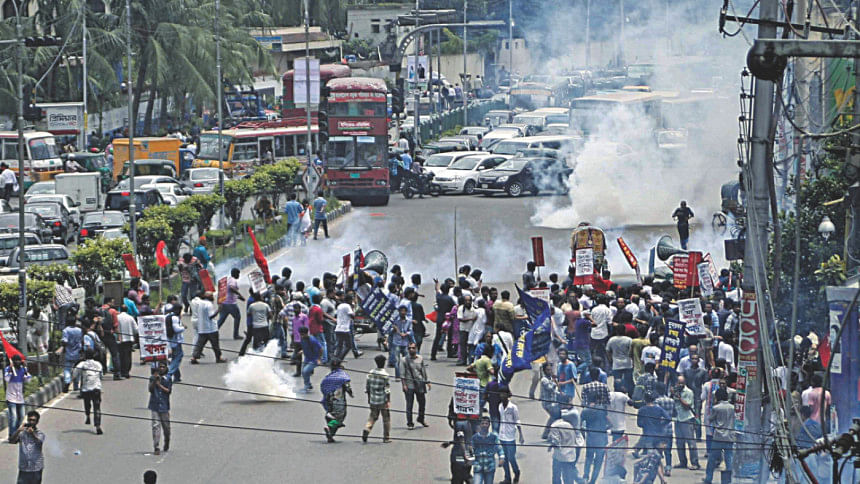 Police yesterday fired teargas on marchers, who were heading towards the Prime Minister's Office, demanding cancellation of a proposed power plant project near the Sundarbans.
More than half a dozen demonstrators fell sick, and some were hurt while police took action to break them up. The injured took first aid.
Police also had picked up six persons on the spot near the capital's Paribagh but they were freed later.
Protest leader Prof Anu Muhammad described the police action on the "peaceful procession" as "unbelievable" and "despicable".
The member secretary of the National Committee to Protect Oil Gas Mineral Resources, Power, and Ports was addressing a press conference at the Communist Party of Bangladesh office.
However, Officer-in-Charge of Shahbagh Police Station Abu Bakar Siddique said the protestors broke through several barricades and shoved policemen to go to the PMO.
The march started from the Jatiya Press Club at noon, and broke through the barricades near Shishu Park at Shahbagh. When it crossed the Hotel Intercontinental intersection, police fired several teargas shells.
Prof Anu said nearly a hundred demonstrators were injured, and 49 of them took treatment. He said some injuries were serious.
Protesting the "police attack", the committee will hold a countrywide rally on July 30. 
The national committee organised the march with a seven-point demand, including cancellation of the coal-fired power plant project at Rampal in Bagerhat.
The 1,320MW plant site is just 14km upstream the Sundarbans Reserve Forest, the world's largest remaining contiguous mangrove forest and a Unesco World Heritage Site.
Bangladesh-India Friendship Power Company Ltd (BIFPCL), a joint venture between Bangladesh and India, is in the process of setting up the $1.8 billion coal power plant, which activists and green campaigners say is likely to affect the forest's bio-diversity and environment in the surrounding areas.
Ignoring repeated protests from green activists, environmentalists and political parties, the government inked an agreement with India to build the plant.
On July 12, BIFPCL signed a contract with Indian contractor BHEL to install the plant.
The government maintains that the plant would not affect the forest because of use of supercritical
technology.
But the national committee said the technology might help to reduce pollution by only 8-10 percent.
Prof Anu said they wanted to submit an "open letter" explaining the reasons the committee opposed the plant to the prime minister.
The economics professor of Jahangirnagar University called upon the government to hold a referendum on whether people want the coal power plant.
"Some 99 percent of people will vote against the coal plant if they can vote properly," he said.  
Meanwhile, different left leaning political organisations condemned and protested the "police attack" on the activists.
In separate statements, Communist Party of Bangladesh, Jatiya Samajtantrik Dal (Marxist) and Bangladesh Chhatra Union also demanded cancellation of the proposed power plant.