College student beaten dead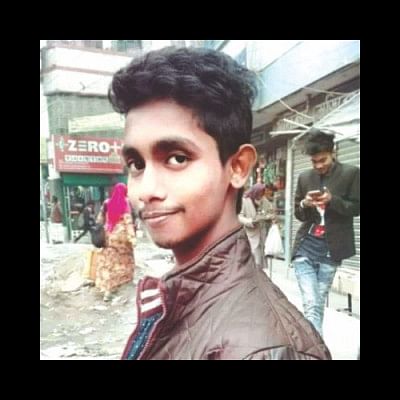 A college student was beaten dead by unknown assailants at Siddhirganj in Narayanganj city yesterday.
The 18-year-old, Iftikhar Mushfiq Joy, was declared dead at Khanpur's 300-bed Hospital yesterday morning when locals took him there after rescuing the injured youth from Naya Ati Mukti Nagar area of Siddhirganj.
Police later sent the body to Narayanganj General Hospital for autopsy.
Iftikhar, son of Akram Hossain from Hirajheel area in Siddhirganj, was an eleventh grader at United College.
Sub-Inspector Kamrul Islam of Siddhirganj Police Station said, "The body of the deceased has signs of assault. Primary assumption is that he was beaten to death with bamboo or [metal] rod. The cause of death can be found after the autopsy."  
"Three people took the body to the Hospital. One of them, Awlad, has been detained for interrogation. The victim's family is preparing for filing a case," he added. 
Iftikhar was known to be an informant for Sub-inspector Rafiqul Islam of the same police station.
When asked, SI Rafiqul said, "Joy [Iftikhar] once in a while sent me information. Many sources had good relations with Joy. That's why I had communication with him."
Iftikhar's father Akram Hossain said, "Joy [Iftikhar] went out of the house after someone called him on his phone at 10:00pm on Monday. As he didn't come home, I called on his mobile phone at 1:00am, but it was turned off."
"Later, around 7:30am yesterday, a CNG-run auto rickshaw driver called and said that Joy has been admitted to the 300-bed Hospital with injuries. We found his dead body after we reached the hospital."
"I am active in politics with BNP. I don't know whether he was killed for political rivalry or for conflict among his friends. Joy never told us about anything. I demand proper investigation and punishment to his killers," said Iftikhar's father.