City dwellers gasp in gridlock
Though the morning downpour brought relief to city dwellers from heat, they did not get relief from the gridlock as it surpassed normalcy today.
Some key city thoroughfares including Mirpur, Kazi Nazrul Islam Avenue, Hatirjheel, Panthapath, Gulshan and Baridhara saw the acute gridlock.
In addition to the water-logging on those roads, vehicles passing through Gulshan-1, Gulshan-2, Rampura, Badda and Baridhara remained stuck for hours as police cleared route for passage of the prime minister.
Prime Minister Sheikh Hasina inaugurated the Police Plaza Concord Bhaban, adjacent to the Shooting Complex at Gulshan-1, at noon.
The rainfall inundated the roads in Kalshi area of Mirpur, Shukrabad area of Dhanmondi, Banani, Basundhara and many parts of the capital.
"It took me over two hours to reach Farmgate from Mirpur 10 as my bus could not move forward due to water-logging," Bikas Chakma, a private service holder, said.
As time rolled on, the congestion was spiraling on the streets causing thousands of vehicles to remain stuck in tailback. The gridlock started since the morning was remained till 2:30pm as last reported.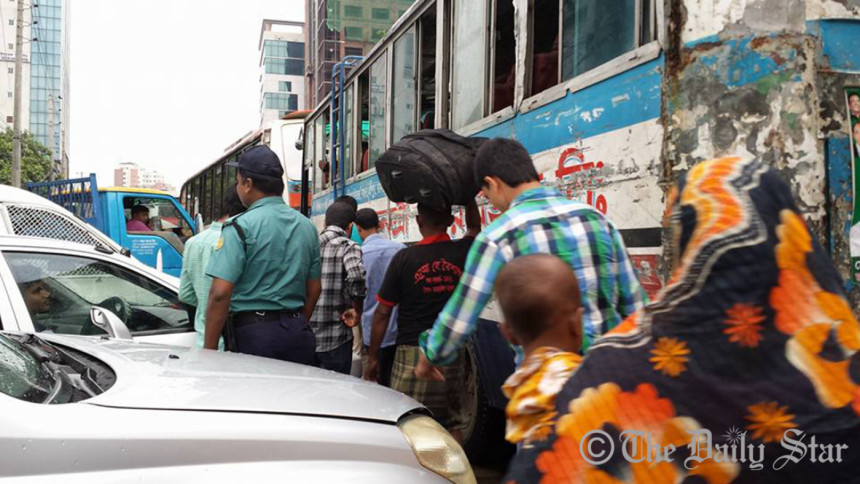 "It usually takes me 20-25 minutes by motorbike to reach my office at Kazi Nazrul Islam Avenue from Niketan, but today it took around two and a half hours," said another service holder.