Changes afoot
Young change makers tell BYLC talk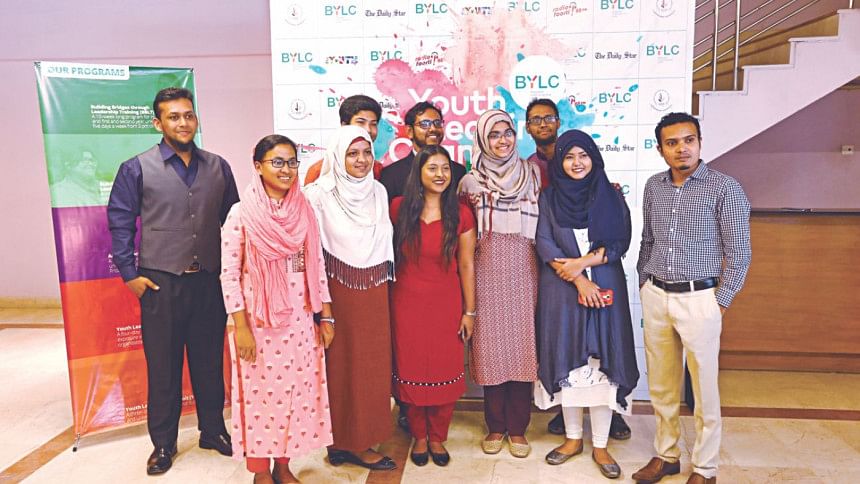 The youth are bringing positive changes to the society through innovation, creativity, and community engagement, said a group of young leaders.  
They made the observation at a programme titled "Youth Leading Change" at Independent University, Bangladesh (IUB) on Saturday.
Bangladesh Youth Leadership Center (BYLC) organised the event, featuring experiences shared by ten young change makers, who have gone through BYLC leadership programmes that engaged them in impactful social initiatives to bring positive changes in the country.
Coming from different age groups and educational backgrounds, the young leaders discussed pressing challenges Bangladesh is facing and put forward new ideas and solutions to mitigate the problems.
Highlighting the power of technology in providing inclusive solutions for underserved communities, Tasnim Jara spoke about her initiative, Aroggo, a crowdfunding platform for the needy, said a press release. 
Speaking about his company, Let's Learn Coding, Muhammad Sumon Molla Selim said coding has the power to solve the youth unemployment problem in the country.
Anwar Ahmad, programme coordinator of Campaign RED, urged the youth to openly talk about topics -- such as menstruation -- that are considered taboo in the society.
Iffat Jahan Tusher, founder and head of operations of Ground Zero, highlighted the importance of talking to children about sexual abuse to help them protect themselves.
Imran Ahsan, founder of Think Twice Act Wise, spoke about his campaign of promoting positive content through social media platforms to combat extremism, while Monoshita Ayruani, director of WebAble Digital, highlighted her project, Made in Equality, which is changing perceptions through impactful storytelling.
Rubina Akter, senior protection assistant of UNHCR, highlighted how listening to refugee stories has contributed to ensuring peaceful coexistence of Bangladeshis and Rohingya communities in refugee camps and the surrounding areas.
Aflatun Kaesar Zilany, news editor of Nature Study Digest, underscored the importance of connecting urban youth to the nature.
Tasmiah Alam, co-founder and creative head of Hootum, stressed the need for equal representation and participation of men and women in the country's media.
Almeer Ahsan Asif, deputy manager of Curriculum Development at BYLC, highlighted "respect" and values based teaching as a tool in education.
Speaking at the event, Ejaj Ahmad, founder and president of BYLC, said, "… Through this event, we wanted to showcase the impact of leadership training on young people, and hope that this will serve as an inspiration for others to take up their own initiatives."
BYLC, the country's first leadership institute, works to build connections among youth from diverse backgrounds, equip them with leadership skills, and enable them to have high impact in public, private, and civil sectors.