BIWTA knocks down 1,199 illegal structures from Turag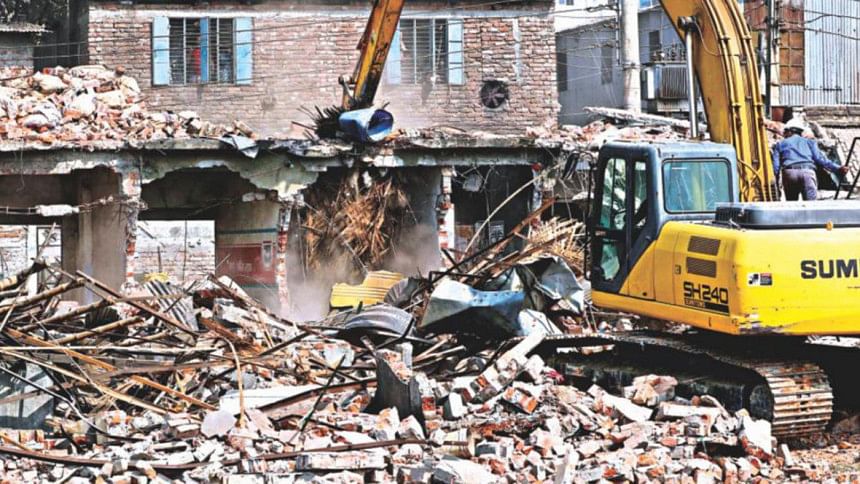 Bangladesh Inland Water Transport Authorities (BIWTA) today knocked down around 290 illegal structures from different places on the bank of the Turag River.
The BIWTA carried out the drive at Kamalbagh, Loharpul and Chhata Mosjid in Kamrangirchar area in a bid to make the river free from grabbers, reports a press release.
During the drive, the BIWTA demolished three two-storey and seven one-storey buildings, 23 semi-buildings and 257 tin-made makeshift structures on the bank of the Turag river, the press release said.
Yesterday, the BIWTA demolished over 25o illegal structures, including three four-storey, two three-storey, five two-storey and nine one-storey buildings and 25 semi-buildings and 208 tin-made makeshift structures in the capital's Kamrangirchar.
On February 5, the BIWTA also dismantled over 200 illegal stretchers from Nabanchar in the area as parts its ongoing drives to demolish unauthorised establishments along the Buriganga river.
In the first and second phases of the drives from January 29-31, BIWTA removed 1,199 illegal establishments and fined the illegal barbers Tk 25,000.
The BIWTA authorities are engaged in carrying out the drive in line with the directive of the shipping ministry to free the river from illegal structures.
And the next course of the drive will be carried out on February 12 and continued until 14, the press release said.