15 BCL men involved in 'rampage' at DU hall: Probe report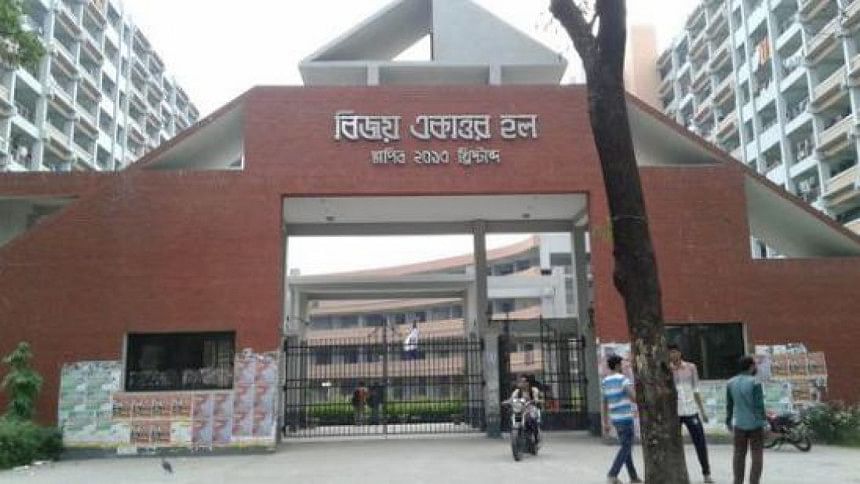 Dhaka University's Bijoy Ekattor Hall unit Bangladesh Chhatra League president and general secretary "instigated" their followers to go on a rampage at the hall on the night of March 13, revealed a probe report.
The committee found 15 BCL men involved in the incident. The probe report was prepared based on CCTV footage and interview with 22 students and BCL men including the hall unit President Fakir Rasel and General Secretary Nayan Hawlader, according to the report.
BCL men chased resident teachers, went on vandalism and besieged the hall provost's room and beat a journalist up creating panic among general students on the night to take control of several rooms of the hall, according to the report.
The report was prepared by a three-member investigation committee formed on that night led by a resident teacher Dr Asif Hossain Khan. They submitted the report to the university vice chancellor on Sunday, said a member of the probe committee. The Daily Star has obtained a copy of the probe report.
The BCL men took a decision to grab the hall from hall authority after holding several meetings and a weeklong plan, the report said.
The report said Rasel and Nayan gave instruction to their followers at a meeting in Rasel's room, TV room and guest room at the hall hours before the incident.
DU Vice Chancellor AAMS Arefin Siddique told The Daily Star, "University administration will take steps as per the university law."
The BCL men who testified to the committee said that they were compelled to create the situation as Rasel and Nayan ordered them to do so.
Probe committee said, seven BCL men, who beat up UNB campus reporter Imran Hossain with stamps when he went there to collect news, are Md Shipon Mia of Islamic history & culture dept, Dewan Sabab of disaster management, Md Mosharaff Hossain of Islamic studies, Saidur Rahman Sharif of Urdu, Zihad of philosophy, Imran of political science and Shamim of sociology department.   
Two BCL activists -- Md. George of philosophy and Md. Mobashshir Hossain Khan of Islamic Studies -- vandalised the windowpanes of provost room with the help of four others.