12 hurt as 'BCL men' assault quota reformists again
'They picked up two students from DU, JU'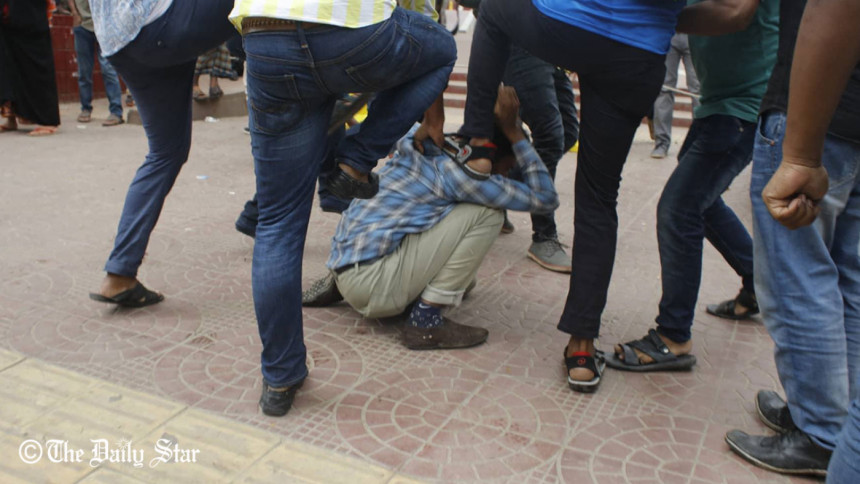 At least 12 students demanding civil service quota reforms were injured as attack on quota reformists allegedly by Bangladesh Chhatra League (BCL) members continued for the third consecutive day today.
The BCL men also forcibly picked up two leaders of Bangladesh Sadharan Chhatra Adhikar Sangrakkhan Parishad, from the campus of Dhaka and Jahangirnagar universities, claimed witnesses.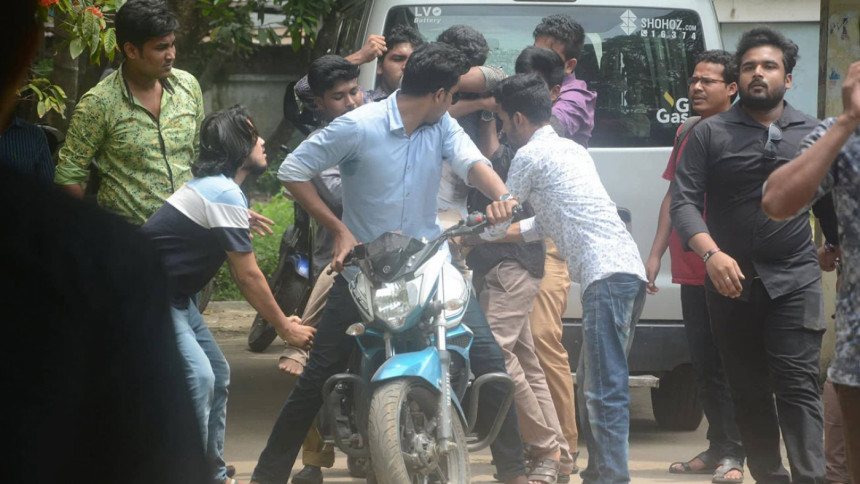 They are Faruk Hosen, the parishad's joint convener of DU unit, and Shakil Uzzaman, convener of JU unit.
BI Badhon and Al Amin, BCL president and general secretary of Bangabandhu Sheikh Mujibur Rahman Hall unit, picked up Faruk from DU campus, witnesses alleged.
Earlier, some 10 to 15 BCL activists allegedly swooped on the students when they gathered on the Central Shaheed Minar premises to form a human chain around 10:50am demanding quota reforms in the civil service.
The BCL members beat up many of the students, leaving at least five injured.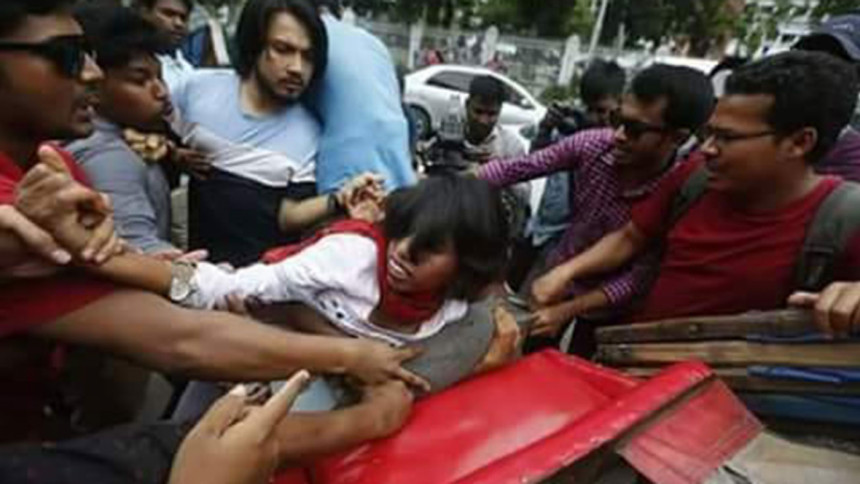 The leaders of the movement alleged that general secretary of Haji Muhammad Mohsin Hall BCL unit Mehedi Hasan Sunny, central BCL secretary of school and students' affair Joynal Abedin, publicity secretary of central BCL Sayed Babu, Al Amin and BI Badhon were among the attackers.
Later, BCL leaders and activists were seen staging showdown at different points of the campus.
Asked about these "incidents of violence" on the campus, DU Proctor Dr AKM Golam Rabbani told reporters that the proctorial body was not aware of any such incidents.
Contacted, BCL leader Mehedi Hasan Sunny said they dispersed the quota reformists as they were hampering the peaceful environment of the campus in the name of protest.
Meanwhile, students of Jahangirnagar University (JU) demanding civil service quota reform also came under 'BCL attack today.
Witnesses said that BCL men picked up Shakil and also slapped another quota reformist on the campus.
In Sylhet, activists of the movement was barred from holding a human chain at the Sylhet Central Shaheed Minar premises around 12:00pm.
Although the activists were allowed to form the human chain, they were dispersed by the law enforcers when they wanted to use loud speakers, our correspondent reports from Sylhet.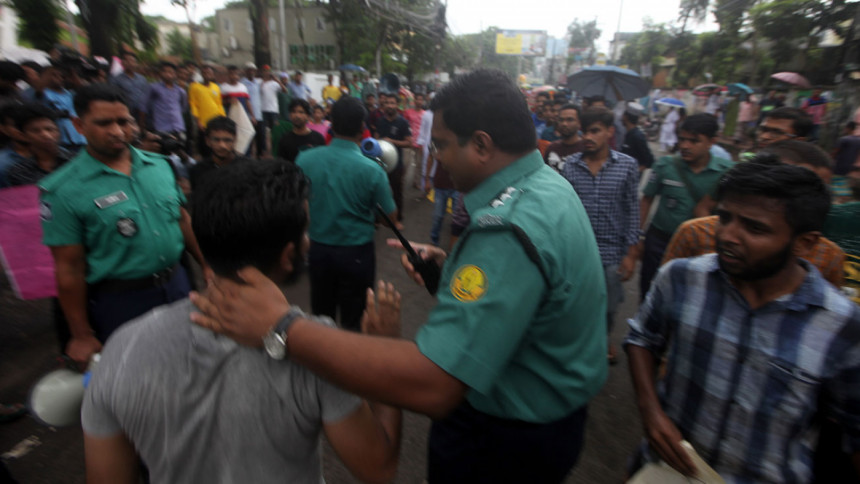 At Rajshahi University, at least seven students were injured as a group of 40-50 BCL men with bamboo sticks and rods attacked them at the main gate of the university in the afternoon, our campus correspondent reports.  
One of the injured, Tarikul Islam Tarek, a masters student of Islamic History and joint convener of RU unit Platform of the movement, was admitted to Rajshahi Medical College Hospital.
RU BCL President Golam Kibria and General Secretary Faisal Ahmed Runu led the attack around 4:07pm when the quota reformists started a flag procession in front of the main gate, claimed platform convener Masud Monnaf.
The alleged attacks on the quota reform movements have been continued from Saturday. Members of quota reform movement could not hold their scheduled press briefing as they were attacked allegedly by BCL men on the Dhaka University campus. The attacks injured at least seven activists including platform joint convener Nurul Haque Nur.
Later on Sunday, at least 10 Rajshahi University students suffered injuries in attacks when they were trying to form human chains on the campus protesting Saturday's assault on quota demonstrators at DU campus.
On the same day, at least four protesters were beaten up by BCL men led by Al Mamun, deputy secretary of the organisation's central committee, in front National Museum of the capital around 4:30pm in presence of law enforcers, according witnesses and DU students.
The identities of the four could not be known and they were later handed over to Shahbagh Police Station.
BCL men also assaulted Mir Lokman, founding president of DU Mime Action, who has staged more than four hundred mime shows in the country and overseas.