A bank's MD provoked WB to scrap Padma Bridge funding
PM tells Kazi Mahbub Ullah Award distribution ceremony; calls for contribution of the affluent in spreading education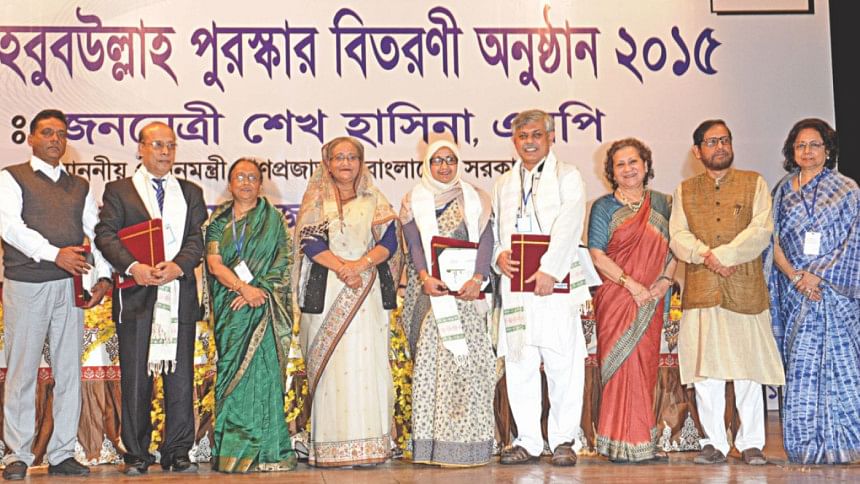 Prime Minister Sheikh Hasina yesterday said high officials from the USA had threatened her that the World Bank funding to the Padma Bridge project would be cancelled if a particular person was removed from the position of managing director of a particular bank.
Without mentioning the name of the bank and the individual, she said the fund was withdrawn by the World Bank at the provocation of that particular person.
"And you know that very well," she told a programme at Shilpakala Academy in the capital where she distributed the Kazi Mahbub Ullah Award 2015, organised by Begum Jebunnesa and Kazi Mahbub Ullah People Welfare Trust.
In 2011, Bangladesh Bank removed Nobel laureate Prof Muhammad Yunus, then 70, as managing director of  Grameen Bank, saying he passed the retirement age of 60 years. Prof Yunus then went to court but failed to win a favourable verdict. He had founded the bank in 1983.
The prime minister said, "That person violated the law of that bank and continued as the managing director for 10 years. If anyone failed to win in court, that's not our responsibility… Could the construction of the Padma Bridge be stopped for that?" She added that she had nothing to do over the managing director post of that bank as that person went to court and the court gave the verdict. Hasina said there was huge pressure on the government to reinstate him as MD later. She said there were unprecedented efforts to attach the stigma of corruption to her government. "I myself and my family were the prime targets."
The World Bank backed off from funding the bridge project in June 2012 after corruption allegations were brought up against some public servants.
At the programme, where four distinguished people were awarded, the prime minister called upon the well-off people to make contributions to spread education in the country. Anisul Haque won the award in the literature and journalism category, Prof Hasina Khan in science, and Mashrafe Bin Mortaza in sports. Prof AK Azad Chowdhury was given the lifetime achievement award.