Bank MD's removal led to Padma fund cancellation threat: PM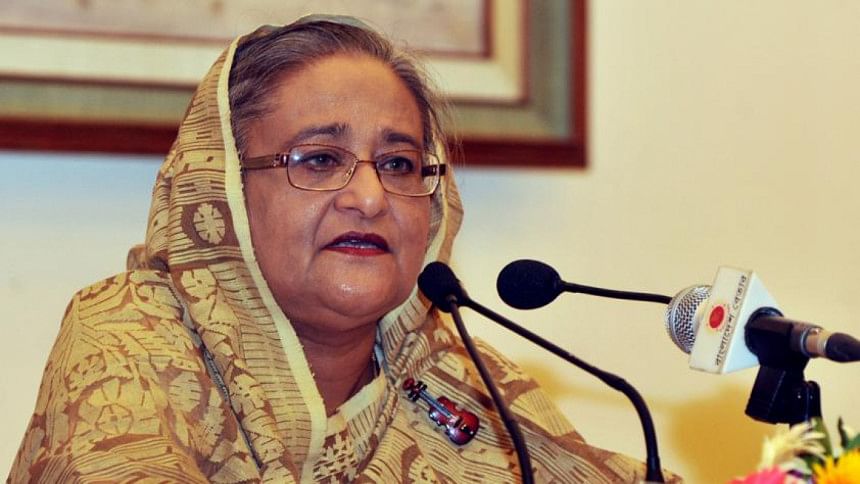 Prime Minister Sheikh Hasina today alleged that she had been threatened that funding to Padma Bridge project would be stopped if a particular person was not there as the managing director of a particular bank.
"Some high officials from the USA told me that funding would be stopped if a particular person is not there in the [MD] post [of the bank]," she said.
The Prime Minister said this while distributing 'Kazi Mahbub Ullah Award' at Shilpakola Academy in the capital, Dhaka. Begum Jebunnesa and Kazi Mahbub Ullah People Welfare Trust organised the function.
Without mentioning anyone's name, Sheikh Hasina said the fund was withdrawn by the World Bank at the provocation of a particular person. "And you know that very well," she said.
The Prime Minister said there were unprecedented efforts to attach the stigma of corruption to her government. "I myself and my family members were the prime targets… even they didn't spare my cabinet members and secretaries," she added.
Recalling those days, Hasina said, "A serious confusion was created that we had siphoned off all the money through corruption…they didn't disburse a single penny, but before that they had created the confusion," Hasina said adding that she took the matter as a challenge.
The Prime Minister said she had nothing to do over the managing director post of that bank as the particular person went to the court and the court gave the verdict.
"That person violated the law of that bank and remained as the managing director for 10 years, if anyone failed to win [the legal battle] in the court that is not our responsibility…it's not the responsibility of the people of the country. Could the construction of the Padma Bridge be stopped for that?" she said.
Bangladesh Bank in 2011 removed Prof Muhammad Yunus, then 70, from the managing director post of Grameen Bank saying that he passed the retirement age of 60 years. Prof Yunus then went to court and failed to win the legal battle.
Hasina said there was huge pressure on the government to reinstate him (Yunus) as the managing director.
"So, there was tremendous pressure from various quarters…they had created a hell on us in that two years. We then decided to construct the [Padma] bridge with our own resources…if anyone wants to help us with money we'll receive, but we'll show the world we can deliver," she said.
The Prime Minister thanked the people of the country for their all-out support to the government for constructing the bridge with own resources. "That support has given us a tremendous strength," she added.