Creating green patches in the heart of desert
Bangladeshi peacekeepers helping Malians grow vegetables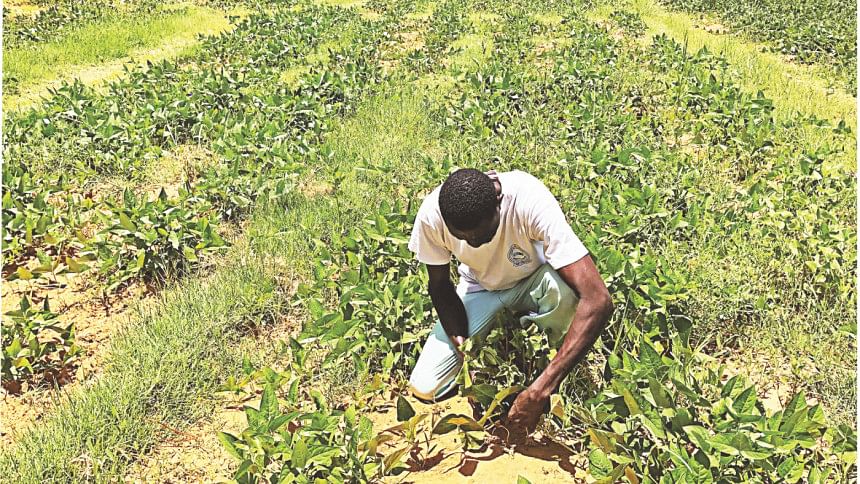 With much of it set across the barren Sahara, Mali does not grow a lot of vegetables. The people are more used to meat and dairy, since traditionally they are not accustomed to vegetable cultivation.
But things started changing since last year. That was when Bangladeshi peacekeepers started encouraging local people to cultivate vegetables.
Now, Malians grow vegetables on a one-hectare plot on the bank of the Niger river that traverses 2,000 kilometres of Mali.
Bangladeshi troops have also set up water pumps on the river for irrigation.
Food is mostly imported into the landlocked Mali. But that need not be the case at all.
"The land is so fertile that all one needs to do is sow the seeds and tend to them. The production is quite impressive," said Contingent Commander of Bangladesh Battalion-6 Col M Khair Uddin.
Peacekeepers distributed seeds and other agricultural supplies among the locals and trained them in vegetable farming. They also showed Malians how to cook vegetables.
"Now the farmers in Mali are capable of producing beans, watermelons, tomatoes and more. We regularly monitor their activities and guide them," said Maj Abu Jafor, who looks after the civil-military activities.
He also said as part of civil-military cooperation, they have undertaken such engagement with the local community to win them over -- enabling the peacekeeping operations to run smoothly.
Mostafa Younesa, a 50-year-old farmer in Wabaria of the Gao region, said Bangladeshi peacekeepers have opened their eyes and created greenery in the heart of the desert.
"They give us all kinds of support, including seeds and guidance," he said, expressing gratitude.
Sixty-year-old Yeahia Yousuf, another local, said he never had the opportunity to try vegetables but now they have become part of his regular diet.
He also earns some money selling the vegetables, Yousuf said.
"Bangladeshi peacekeepers provide us seeds and we produce the vegetables. We consume some and sell the rest," he said.
Col M Khair Uddin said the extreme weather makes it difficult to cultivate vegetables in the heart of the desert.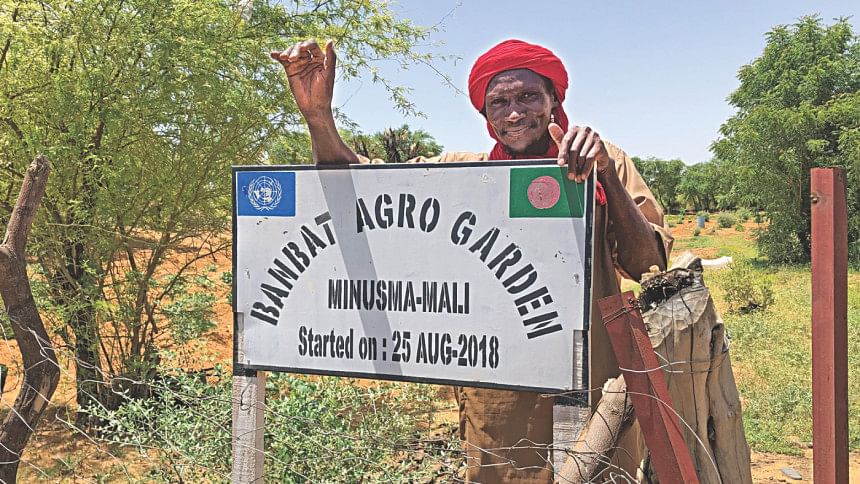 "But we encourage them through various initiatives. We buy their vegetables so that they feel more encouraged to produce," he said.
Deputy Speaker of the Mali Parliament, Mamadou Fah Simpara, said the Bangladeshi government and business community can come forward to invest in Mali's agriculture sector.
"We have large tracts of barren fields. Bangladesh can invest in Mali's agriculture," he said.
He also said his government would welcome initiatives of the Bangladeshi government and business community.
Our peacekeepers have already sown the seeds of fellowship in the hearts and minds of the locals. It would be easy for the Bangladeshi business community to expand their initiatives in Mali.