Local NGOs for leadership role thru' equal partnership with intl' orgs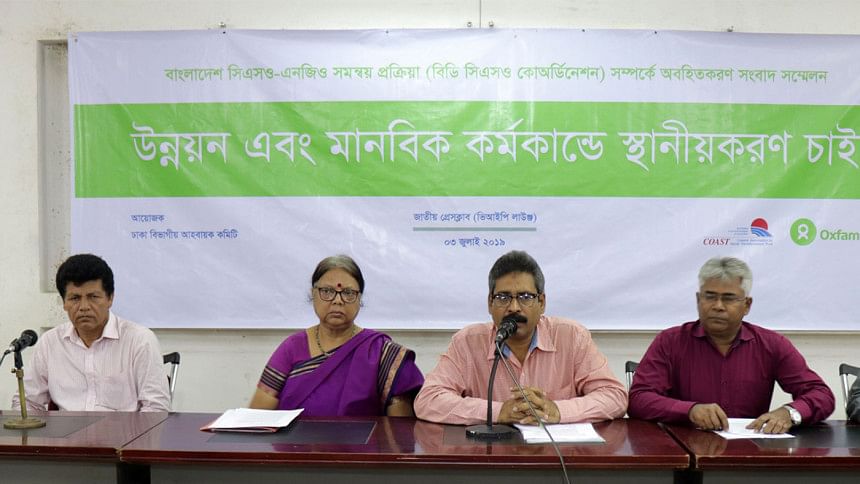 Local non-government organisations (LNGOs) have expressed interest in leadership role through equal partnership with the international NGOs in development activities in the country.
To ensure this, they also want cooperation from all stakeholders to implement different global agreements including the United Nations' "Principle of Partnership", "Charter for Change (C4C)", and "Grand Bargain Agreement".
Coastal Association for Social Transformation (COAST) -- a NGO with UN's special consultative status -- came up with the call at a press conference at the VIP lounge of Jatiya Press Club in Dhaka today.
Speakers at the programme also said they will organise a national convention on Saturday, July 6, in the capital where around seven hundred NGO representatives from across the country will attend.
"The INGOs have signed those agreements, but they have implemented very little of those agreements," Mustafa Kamal Akanda, assistant director of COAST, said at the press conference.
The basics of these global agreements are humanity and equal partnership between the local and international NGOs, ensuring leadership role of the local NGOs for transparency and accountability, speakers said.
During last two years, COAST has also organised workshops in all divisional cities as part of their campaign across the country.
Organisers also informed that they will launch a platform titled "Bangladesh CSO and NGO Coordination Process" in the upcoming national convention.
Renowned economist Qazi Kholiquzzaman Ahmad, Resident Coordinator of UN in Bangladesh Mia Seppo, and former governor of Bangladesh Bank Dr Atiur Rahman, among others, will speak at the national convention.