How long will poor execution of projects be tolerated?
Such projects are enabling corruption and incompetence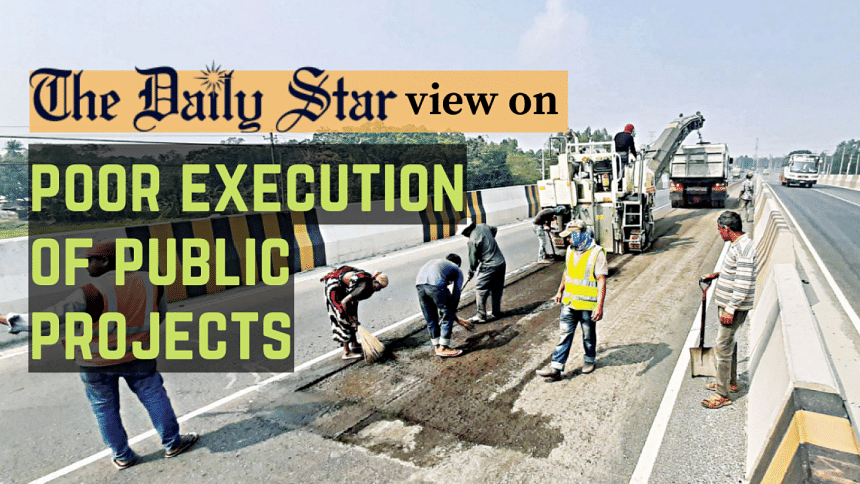 Cost overruns and delays in implementing projects go hand in hand in Bangladesh. We seem to have become quite adept at putting obstacles in the way of public projects, and then coming up with all sorts of excuses to justify it. There is already a rich legacy of such projects going back and forth on the drawing board for multiple revisions. So when the minister of planning laments that a lack of good governance is undermining the potential of public infrastructure projects (PIPs), despite huge investments made in them by the government, we are not taken by surprise.
The government is clearly placing high priority on the development of infrastructure in the country. But it will not deliver expected outcomes if project planners, directors and other stakeholders do not come out of this culture of time and cost overruns. Often, it is seen that a project starts to flounder right from the start, with inaccurate plans and designs, triggering a chain of disruptive sequences that continue until the very end. Such poor management of PIPs is frequently by design, enabling corruption, and frequently because of incompetence. Projects executed in such a way are more likely to negatively affect the expected results as well as the return on investment.
The continuation of this situation is unfortunate, to say the least. A negative return on investment is not the only casualty of such a situation. It is also draining Bangladesh of valuable local and foreign currency. There are bigger concerns as well. As an expert rightly pointed out at the event, physical, social and digital infrastructures will play a critical role in facilitating Bangladesh's graduation from a Least Developed Country to a Developing Country. Infrastructure is related, in varying degrees, to 72 percent of all the targets in the UN's Sustainable Development Goals (SDG). It's also related to the targets of our 8th Five-Year Plan and Vision 2041. As such, how we perform in executing our infrastructure projects will hugely impact our future trajectory as a nation.
This is why good governance in PIP implementation is so essential. It will not only accelerate growth and help meet those targets, but will also reduce the cost of public service and maximise productive use of our limited resources. The prime minister, on several occasions, expressed her dissatisfaction over the current state of affairs. It's time the authorities translated expressed urgency into actual, systemic reforms that will hugely benefit the nation.