Project implementation: Poor governance cutting efficiency
CPD says at a dialogue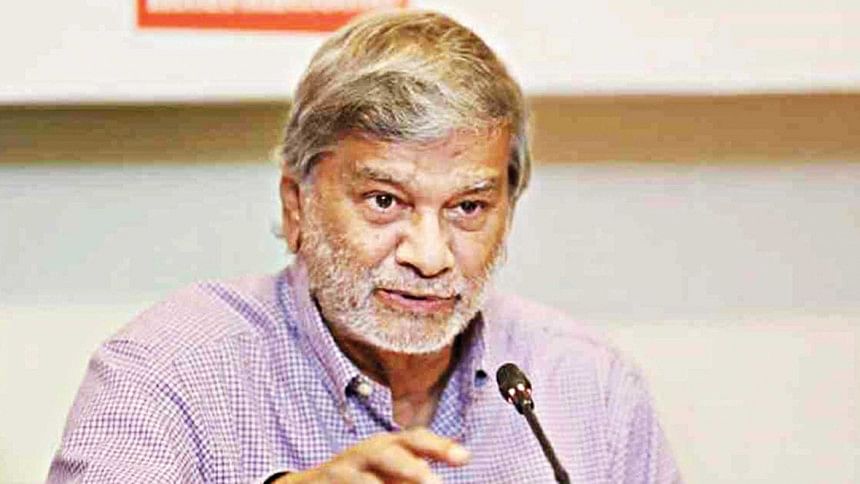 Project directors and other key persons at division, district and upazila levels often cannot be found at their work stations despite prime minister's clear directives.
The government is making significant investments in public infrastructure projects (PIPs), but a lack of good governance in project implementation undermines their efficiency, the Centre for Policy Dialogue (CPD) said yesterday.
This poor governance in PIP implementation also negatively affects the expected results as well as the return on investment, the think-tank observed, and called on the government to develop a comprehensive framework to ensure good governance.
Speaking at the event, Planning Minister MA Mannan said quality physical infrastructures were a top priority for Bangladesh.
The CPD organised the dialogue titled "Implementation of Public Infrastructure Projects (PIPs) in Bangladesh; Ensuring Good Value for Money" at a city hotel in partnership with The Asian Foundation.
The dialogue was held at a time when cost and time overrun of development projects is becoming a major concern, bringing to the fore a serious mismatch between project planning and implementation.
Prime Minister Sheikh Hasina on several occasions expressed discontent over the issue, but the situation seems to have improved little.
In his presentation, CDP distinguished fellow Prof Mustafizur Rahman said physical, social and digital infrastructures will play a critical role in facilitating Bangladesh's graduation from Least Developed Country to Developing Country.
Besides, infrastructure is related, in varying degrees, to 72 percent of all the 169 SDG targets, he told the programme chaired by CPD Executive Director Fahmida Khatun.
Prof Mustafizur underscored the importance of good governance in PIP implementation to ensure acceleration of growth and meeting the targets of the 8th Five-Year Plan, SGDs and Vision 2041.
Good governance will also reduce the cost of public service and maximise productive use of limited resources, while also promoting competitiveness and inclusive growth, he said.
But Bangladesh is still lagging in competitiveness indicators, he said, citing Global Competitiveness Index-2019. Bangladesh ranked 114 out of 141 countries in infrastructure, 108 in quality of road infrastructure, and 117 in road connectivity, shows the index.
Citing CPD's National Budget Analysis for 2022-23 fiscal year, he said the implementation period for 1,243 projects is 4.6 years on average, for 258 projects over six years and for 39 projects 10 to 15 years.
Citing different documents from the Implementation Monitoring and Evaluation Division (IMED), he highlighted several challenges in project implementation.
They include weak feasibility studies, coordination failure, and frequent changes of project directors. Many projects also face setbacks over delays in land acquisition, as the authorities often seek the district administration's approval for land acquisition only after starting the project.
Noting that the share of public investment in GDP has gone up from under 6 percent to over 8 percent in the last 10 years, he said, "There is therefore a need for a comprehensive framework for ensuring good governance in PIP implementation in Bangladesh."
Speaking at the dialogue, the planning minister expressed his frustration that project directors are often unavailable at project sites. "This has become a national problem."
Project directors and other key persons at division, district and upazila levels often cannot be found at their work stations despite prime minister's clear directives, he said.
At a programme on Sunday, the minister, who himself was a career bureaucrat before joining politics, said some bureaucrats were keeping local representatives -- who seek allocations for rural development -- on a tight leash.
Referring to this comment, he said, "We have some rules and regulations that are no longer necessary. Unnecessary, irrelevant, and sometimes they are unjust," he said.
He added that the British and Pakistan governments enacted those rules and regulations to serve their interest, but they are still in force.
Speaking about project management, lawmaker Enamul Haque stressed the need for consultation with all the stakeholders, which he said was missing in many cases.
Abdus Shahid, chairman of parliamentary standing committee on estimates, said timely implementation was vital for the people to reap the benefit of the projects.
Rizwan Rahman, president of Dhaka Chamber of Commerce and Industry, said investment for infrastructures has indeed increased, but it's still not enough.
He said Public-Private Partnership (PPP) was a good option for infrastructure development, for which there should have a national roadmap.
M Masrur Reaz, chairman of Policy Exchange of Bangladesh, advised against hurriedly done feasibility study, which creates problems at the later stage of the project.
CPD Executive Director Fahmida Khatun emphasised on assessing the environmental impacts alongside the economic impacts before taking up any project.