Tofa, Tahura to be separated tomorrow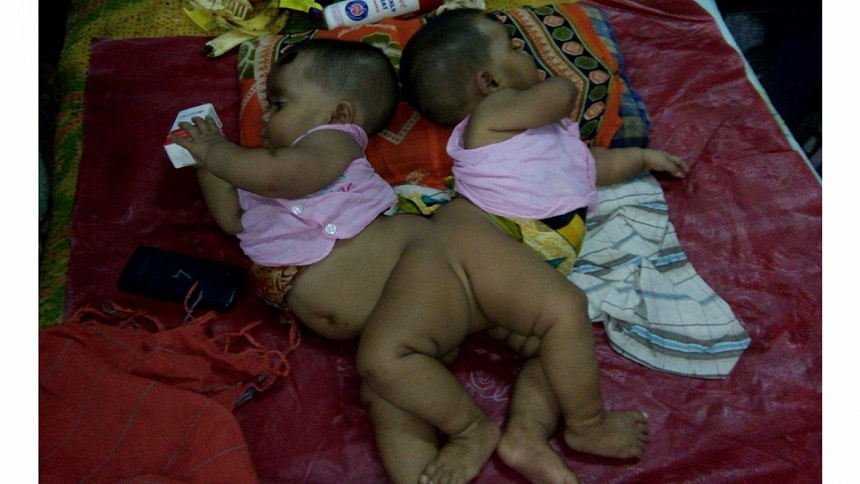 A 30-member medical team of Dhaka Medical College Hospital (DMCH) is set to perform an operation tomorrow on Tofa and Tahura, the conjoined twins of Gaibandha, for bringing them to normal life.
"We will begin the operation at 8:00am tomorrow and it may take around 8 to 12 hours," Prof Shahnoor Islam said while talking to reporters at a press conference at the DMCH this noon.
Read more: Hoping for the best
Around 30 doctors from different departments including Anesthesia, Burn and Plastic Surgery, Orthopedics, Neurosurgery, Urology, Radiology and Imaging will take part in conducting the operation, Shahnoor said. Besides, there will be nurses and supporting staff. 
A special medical board headed by Prof Shahnoor Islam, associate professor of paediatrics surgery unit of the DMCH, has been formed to oversee the operation. This operation is going to be the first of its kind in Bangladesh. 
"We are hopeful of conducting a successful operation," Prof Shahnoor said. She however, expressed her doubt that complications might arise during or afterward of the operation.
With an expectation that the babies would get a normal life like other kids, parents, Shahida and Raju Mia, admitted to the duo the DMCH on July 15.
Finally, there is a ray of hope for the couple as the babies -- joined back-to-back at the pelvis and lower spine, each with separate hearts, heads and limbs -- will undergo the surgery tomorrow, the parents said. 
"We are worried. At the same time, we are very hopeful about the surgery," Raju, father of the twins said who has given a bag of his B+ blood to be kept ready for the surgery.
Earlier, Tofa and Tahura were shifted to an individual cabin from a ward of the hospital to avert gatherings of curious visitors.