9th wage board: Journos stage demo in Dhaka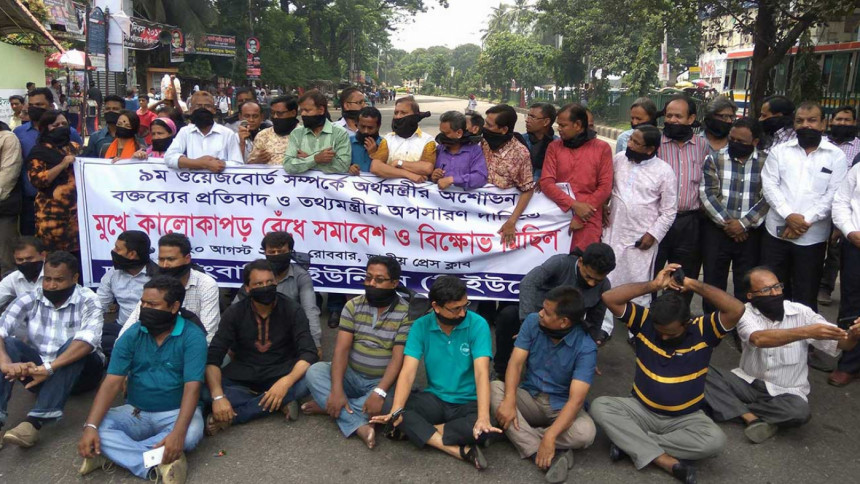 Journalists staged a demonstration blocking a road in front of Jatiya Press Club in Dhaka today demanding formation of the ninth wage board.
The journalists under the banners of Dhaka Union of Journalists (DUJ) organised a rally in front of the press club covering their faces with black cloth around 11:30am.
They demanded the removal of the Information Minister Hasanul Haq Inu for not forming the ninth wage board.
Addressing at the rally, DUJ President Saban Mahmud said they would continue their movement until the ninth wage board is formed and demanded that Finance Minister AMA Muhith apologise for his comment in this regard.
"We'll address a press conference at the press club on August 22 with an explanation why we demand the formation of the ninth wage board and the removal of the information minister," said Saban Mahmud, adding that they will announce tougher programmes over the issues at the same press conference. 
Moderated by DUJ General Secretary Sohel Haider Chowdhury, the rally was spoken, among others, by Bangladesh Federal Union of Journalists (BFUJ) Secretary General Omar Faruque, Dhaka Reporters' Unity (DRU) President Shakhawat Hossain Badshah and its General Secretary Mursalin Nomani and former BFUJ secretary general Abdul Jalil Bhuyian.
Earlier, on August 16, Journalist leaders threatened to stage a sit-in programme and block the road in front of Jatiya Press Club for today (August 20) unless their demands, including the formation of the ninth wage board, are met within the deadline.
The finance minister on August 8 said the salaries and allowances given in five categories in the newspaper industry were higher than that of the government employees.
He also said except for 15 to 20 newspapers, all the other dailies published from Dhaka were "bogus".
Journalist leaders refuted the finance minister's claims.