Over 6 lakh slum dwellers in Dhaka: Minister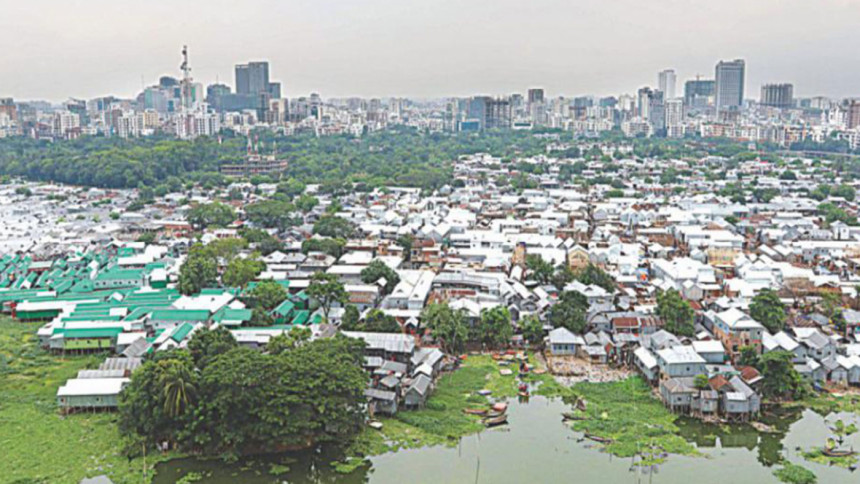 Local Government Division minister Tazul Islam today informed the parliament that around 6.46 lakh people are now living in around 3,394 slums in Dhaka.
There are 1,639 slums with 4,99,011 population under Dhaka North City Corporation (DNCC) and 1,755 slums with 1,47,056 population in Dhaka South City Corporation (DSCC), he said.
Tazul was placing the statistics before the parliament in reply to a starred question from ruling lawmaker Haji M Salim. 
Quoting the slum census report of 2014, the minister said that there are 1,35,340 households under the DNCC and 40, 591 in the DSCC.
The government is implementing several projects to improve life standard and health care of the poor people living in the slums, the minister said in a scripted answer.
The question answer session was tabled by the Speaker Shirin Sharmin Chaudhury at the onset of the day's proceedings.
In DNCC, a total of 472 slums are located under Adabar Police Station, 284 Mohammadpur, 168 Rampura, 138 Shere Bangla Nagar, and 121 under Badda Police Station.
Besides in DSCC, a total of 426 slums are located under Khilgaon Police Station, 278 Lalbagh, 265 Kamrangirchar, 243 Hajaribagh and 165 under Jatrabari Police Station.
Tajul, answering another query from ruling party lawmaker Abdul Latif, said the government is planning to modernise the Aminbazar landfill with the cost of Tk 826 crore.
Besides, expansion work of the Matuail sanitary landfill with Tk 724 crore is in under implementation.