45 tonnes of expired chemicals seized from Old Dhaka warehouse
Tk 50 lakh fined
A mobile court of Rapid Action Battalion (Rab) today seized 45 tonnes of expired chemicals from a chemical warehouse and fined it Tk 50 lakh in a drive at Armanitola area of Old Dhaka.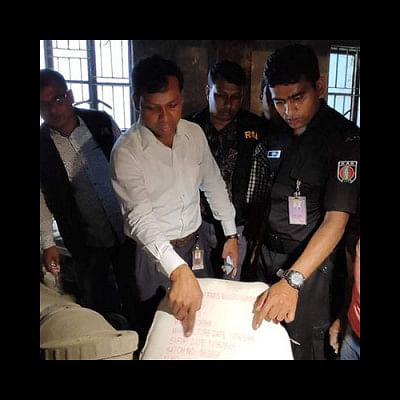 Rab along with Bangladesh Fire Service and Civil Defence, Dhaka Power Distribution Company (DPDC), Dhaka South City Corporation, and Department of Environment conducted the drive led by Executive Magistrate Sarwoer Alam.
The warehouse of one Mala Chemicals was found storing the expired chemicals which were being used in food and cosmetics, Sarwoer Alam told The Daily Star.
The building in which the warehouse is located has been identified as vulnerable during the drive and Rajdhani Unnayan Kartripakkha (Rajuk) was asked to take necessary steps in this regard, he said.
The team also conducted raids at eight more warehouses in the area. However, as the owners of those warehouses were moving their goods elsewhere, no action was taken against them, he added.