Police uncover trail of National Bank's missing Tk 80 lakh
Tk 60 lakh recovered so far 4 held, Tk 60 lakh recovered, 2 firearms seized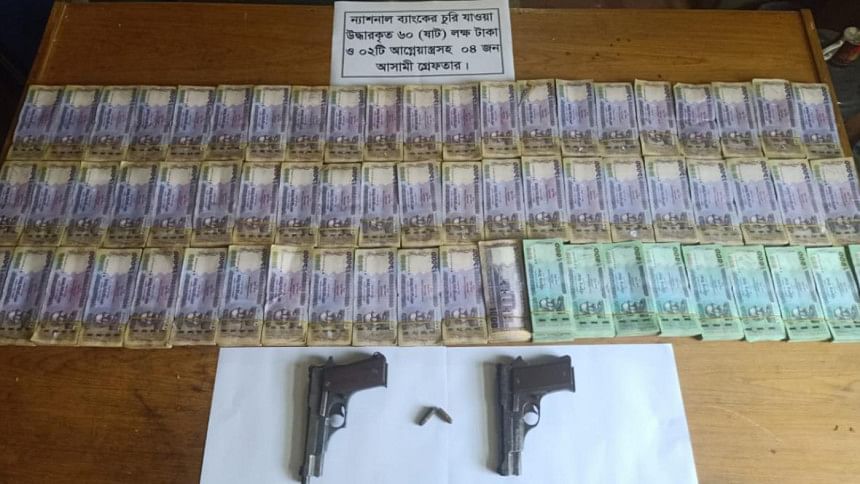 Detectives yesterday arrested four people from different parts of Dhaka in connection with a case filed over National Bank's missing Tk 80 lakh on May 10.
The arrestees are Md Hannan alias Briefcase Hannan alias Robin alias Rafiqul Islam, his wife Parveen and associates Md Mostafa and Md Babul Mia, Mahbubul Alam, joint commissioner of detective branch (DB) of police said during a press briefing.
The law enforcers also recovered Tk 60 lakh and seized two firearms from the arrestees. The police official also said the arrestees have spent the rest of the money.
Kotwali police, along with several teams of DB, started a shadow investigation after a case was filed over National Bank's lost money.
At one stage of the investigation, the Kotwali Zonal Team of Intelligence (southern division) arrested the four from different areas of the capital last night, he said while addressing a press conference this afternoon.
There are several cases pending against the four in different police stations. There more than 30 cases alone against Hannan, the ringleader of the gang, Mahbubul said.
According to Additional Deputy Police Commissioner Md Saifur Rahman Azad, who led the drives, the incident took place at noon on May 10 when an executive officer and a security guard of the bank had collected money from different branches in a microbus and parked in front of the Islampur branch to make a collection.
The executive officer had gone inside the branch while the security guard and the driver stayed in the car.
Hannan and his other associates approached the guard and driver and started talking to them. At one stage, the driver went upstairs in search of the executive director as he was late in returning. With the security guard distracted in conversation with his associates, Hannan took the money from the car and went to a house in Tularbagh by a rickshaw, Md Saifur Rahman Azad said.
Hannan paid Tk 25,000 to each of his associates and kept the rest.  He spent it in various ways, he added.
Following the incident, Habibur Rahman, vice president of the bank's Dilkusha Branch filed a case with Kotwali Police Station the same day against unnamed people.
Today, a Dhaka court placed the four arrested on three-day remand after Sub-inspector of Detective Branch of Police Monirul Islam Mridha -- also the investigation officer of the case -- produced them before the court with a 10-day remand prayer for each.