Ctg delivering deep sea fishing boats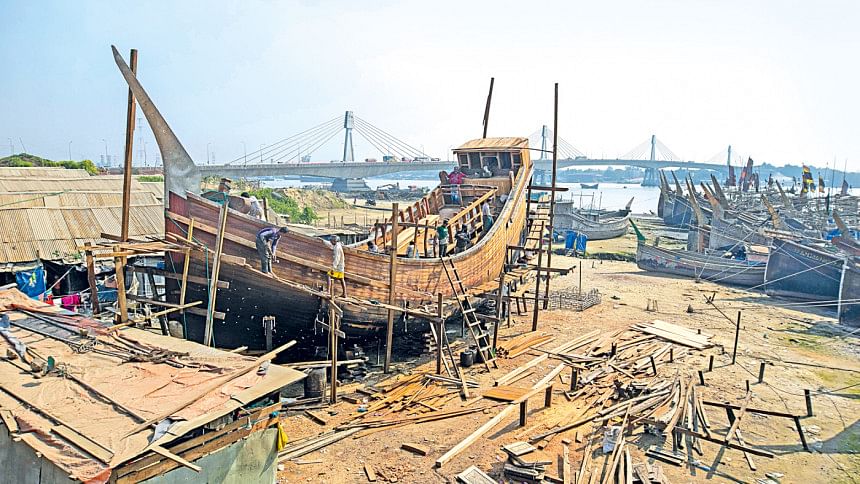 "A boat in harbour is safe, but that's not what boats are built for" -- John Shedd's famous quote paints a picture of the life of those who make a living out of making or sailing boats. It is, indeed, a life that demands constant movement.
For those who live near the seas and rivers, seeing giant boats float ashore after completing an extraordinary fishing trip or a long-distance journey is common; so is the jubilant mood such an event brings to the ports, ghats and their surrounding areas.
Years before the medieval era, fishing was mostly done using small dinghy boats, reed boats, rafts, canoes, inflatables, rampini boats, etc, constructed using tree barks. Archaeological excavations found evidence of dugout canoes being one of the oldest kind of boats.
But with the passing of time, as empires and nation-states started taking off, fishing became intertwined with greater economic objectives, which led to the need to manufacture bigger fishing boats.
One such "new-age" boat is the fishing trawler, a particular kind of boat that catch fish through "trawls", which are a kind of net made to entrap fish from the depths of the sea.
For Bangladesh, the manufacturing of these larger boats was mostly dependent on international trade. But with industrial and technological development, we are now building our own boats at a large scale.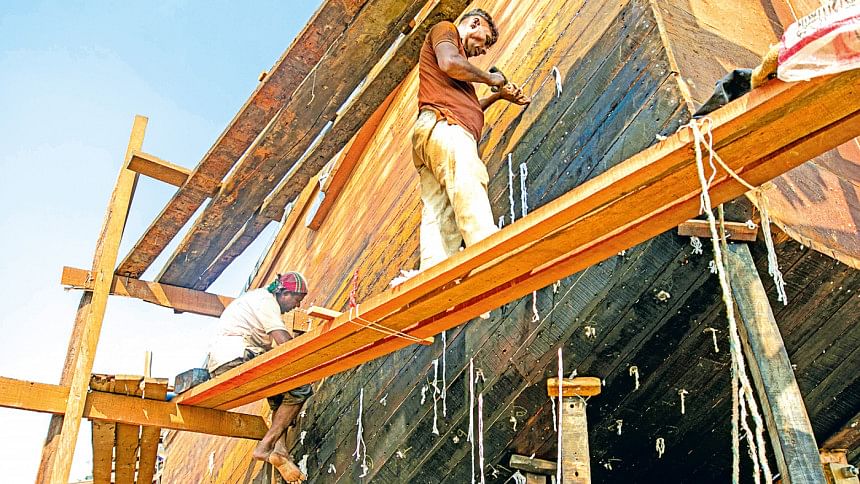 In Chattogram, on the north bank of the Karnaphuli river, Kalurghat and Charpathorghata area, there are several establishments where massive fishing boats are manufactured from scratch. On top of this, they also transform inoperable boats by repairing and remodeling them into brand new ships.
The foundation and structure of deep-sea fishing boats are different from an ordinary boat, as these boats have to go deep in the ocean and survive the big waves. Anglers spend a month or more days on these boats for a single trip. This is why these trawlers are designed more like ships.
Each large boat can house 15-20 people and remains fit for at least 8-12 years. They come with large compartments underneath the deck to store fish.
Manufacturing such a boat is quite a delicate and critical process, as there is little room for mechanical error. The process is divided into four parts. The major part consists of framing and shaping the wood into the exact form required by the design, while setting up engines, plating steel, welding and furnishing are other important components, said Md Akter, who has been building boats for over 24 years.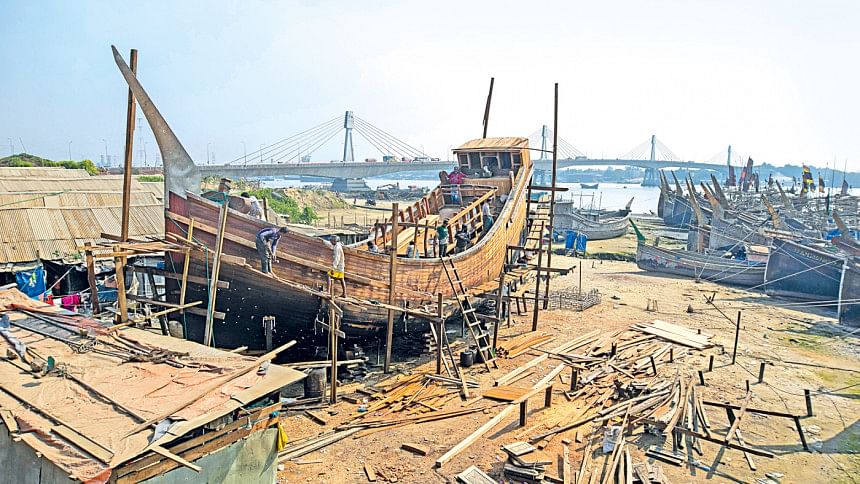 The whole process, including importing engines, carpentry, welding, and storage until delivery, is monitored by the authorities. Many companies make huge investments in the sector every year. Each company can construct three or four boats in the span of a year.
Building each large boat costs around Tk 80 lakh to Tk 1 crore, while smaller ones take around Tk 25-40 lakh, said builders. This includes wages for architects, forgers and smiths. Other accessories like durable nets, maintenance and residual outlays make the whole process an expensive one. However, bearing this is made easier by government endowments that the industry is provided.